A Tshwane go-getter wants more women to follow in her footsteps and take to the skies in a hot air balloon.
Despite going through tough times after graduating, Semakaleng Mathebula (27) was on cloud nine last year when she became South Africa's first female black hot air balloon pilot.
"After graduating, I was unemployed with limited to no prospects. After a six-month struggle, I consulted a recruitment agency, which introduced me to a balloon tour operator that was looking for a marketing assistant," she says.
The appointment brought with it many opportunities for the Ga-Rankuwa, Tshwane, resident to learn more about the business and the sport, and she quickly fell in love with hot air balloons.
In 2019, Mathebula, who holds a Bachelor of Arts with Joint Honours in International Relations and Politics from the University of the Witwatersrand, received a training grant from the Department of Sport and Recreation and the Balloon and Airship Federation of South Africa.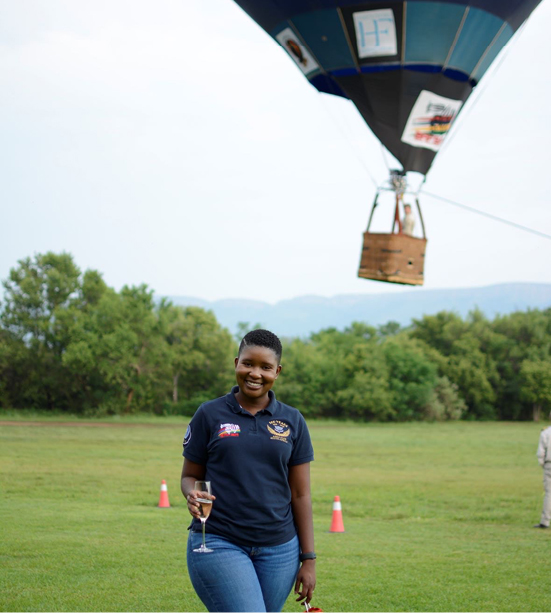 After a successful two-year training journey, she achieved her hot air balloon pilot licence in November 2021.
"Like all pilots, hot air balloon pilots undergo medical examinations, theoretical exams and practical flight training to obtain their private pilot licence. This is the first step towards building the hours they need to become a commercial pilot," says Mathebula.
She is hopeful that her achievement will lead to more young trainees being awarded a study grant and that hot air balloon piloting becomes even more accessible.
For many years, she says the sport was out of reach of the majority of South Africans and was seen as a rich man's sport. Today, only a handful of women have their pilot licences. However,  Mathebula hopes that people take note of her achievement – and the fact that funding opportunities exist – and follow in her footsteps.
Mathebula's journey is not over. While she loves competing in hot air balloon competitions, she now wants to secure funding to become a flight instructor and commercial pilot.
These are the next steps in her journey and along the way, she hopes to encourage many other young people – especially women – to take up the sport.
She says hot air ballooning presents not only a world of adventure, but also a fruitful career path for those willing and determined. "The industry needs more young people to walk through its doors, and I will hold them open," she says.
For more information contact the Ballon and Airship Federation of South Africa on www.bafsa.co.za