More than 7 000 households in informal settlements across Ekurhuleni, Gauteng, can look forward to a brighter future with the roll out of a new solar energy lighting project.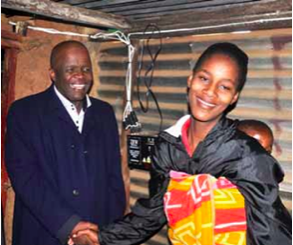 City of Ekurhuleni Executive Mayor Mondli Gungubele launched the R17.5 million project at the Umgababa informal settlement near Daveyton recently.
The ultimate goal of the project is to make informal settlements more liveable by providing residents with basic municipal services such as lights and water, while the process is underway to either formalise or relocate informal settlements.
Ponki Mofokeng, 35, was one of the overjoyed residents whose life is set to improve.
"Just because we live in an informal settlement does not mean that we have to live in darkness. It was very hard to cook or help my children with homework under candle light, so I am so grateful for this project," she said.
Each home will get a 10-watt solar lighting unit consisting of a solar panel, battery control box and four light emitting diode (LED) lights. The solar panels will be placed on rooftops but will be fitted and built from within the house to keep the thieves at bay.
The life-span of the battery is three to fi years and LED lights have the capacity to shine for up to 100 000 hours. The project is expected to create 24 temporary jobs for community members from the Umgababa informal settlement.
The project will benefit over 7 000 households which have been classified as Category C. These are areas where there are no short to medium term plans for it to be upgraded or relocated. Gungubele also confirmed that the project would eventually be rolled out to other informal settlements in the municipality, which are outside the targeted category, benefitting tens of thousands of households.
Gungubele said the municipality was constitutionally bound to make sure that informal settlements were suitable for people to live in, without necessarily encouraging the mushrooming of these settlements.
"We respect the fact that it is people who stay in those shacks and there are kids who are being raised in such conditions. This project is about preserving the dignity of our people," he said.
Residents currently spend on average R13 a week on candles and have been paying between R5 to R10 to charge their cellphones at the homes of neighbours who have electricity.
For more information contact the City of Ekurhuleni on 0860 543 000