As South Africa emerges from a year of difficulty and uncertainty we can declare with confidence that our country is still a land of untapped opportunities.
This year we experienced ups and downs but we can smile knowing that we have triumphed in certain areas. There is hope.
At the beginning of this year, we launched an ambitious investment drive to raise $100 billion in new investment over the next five years.
I appointed four Presidential investment envoys, tasked with travelling across the country and around the globe to meet potential investors who will help grow our economy and create jobs.
I am proud of the progress that we have made. Several companies have already raised their hands and have made a pledge to play their part in taking our country to new heights. 
So far, this drive has yielded R290 billion in investment opportunities that will expand productivity and, most importantly, put South Africans to work.
Towards the end of October we opened the R1 billion Gibela passenger train manufacturing factory at Nigel, Gauteng.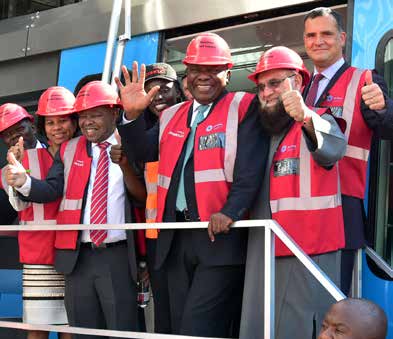 This investment is a source of pride not only because of the world-class and world-leading technology it showscases, but also because it is a partnership between the French industrial giant Alstom and a South African consortium made up of black businesses and the community.
The factory employs 800 workers, of which half are women, and many more jobs are scheduled to follow at this facility which confirms South Africa's manufacturing capability.
Any investment in South Africa is an investment in Africa and South Africa was therefore honoured to host the African Development Bank's inaugural Africa Investment Forum in the early part of November.
The Forum was a platform for African governments and businesses, continental and international financial institutions, and other development partners, to focus on the critical task of making Africa the next global frontier in investment.
This Forum was aligned to the key aspiration of the African Union's Agenda 2063 of a prosperous and integrated Africa, characterised by inclusive growth and sustainable development.
 The Africa Investment Forum – and the South Africa Investment Conference shortly before it – were important sequels to government's unveiling in October of an economic stimulus and recovery plan that aims to restore growth, save existing jobs and create new ones.
As part of this plan we have taken immediate steps to finalise reforms in key sectors like mining, oil and gas, tourism and telecommunications – all of which have great potential for growth, but which have been constrained by policy uncertainty.
Another area that is important to economic transformation and restoring dignity to our people is land reform. This issue is currently a focus of intense debate across South African society.
There is general agreement among most South Africans that we need to accelerate land reform not only to redress a historical injustice, but also to effectively unlock the economic potential of the country's land.
We have appointed an Advisory Panel on Land Reform, which comprises people with extensive experience in farming, policy development, academia and law.
The panel will advise government on the implementation of a fair and equitable land reform process that redresses the injustices of the past, increases agricultural output, promotes economic growth and protects food security.
To date Parliament's constitutional review committee has adopted a report that will allow the state to expropriate land without compensation. This marks the first of many steps we need to take towards land reform.
In August, I made a commitment to convene a Presidential Summit on Gender-Based Violence (GBV) and Femicide.
The aim of the Summit was to develop a national plan of action against GBV.
We cannot, and will not, rest until every woman and child in South Africa feels safe and is protected against perpetrators of GBV and Femicide.
There is no acceptable level of GBV. We must name and shame those who perpetrate violence women and children.
With the year coming to the end, I would like to wish all South Africans a wonderful and safe festive season.
While we engage in festivities, may we do this responsibly. Remember to buckle up when driving, not to drink and drive and refuse to commute in a taxi or bus that is not road worthy.
When we return in 2019, it will be our time to recommit ourselves to transforming our country together.
The year 2019 will also be the year to make our mark in our sixth general in May.
It is a privilege, right and duty to vote; a duty with which we pay tribute to the many South Africans who made extreme sacrifices – including losing their lives – to ensure that in 2019 we will be able to celebrate 25 years of freedom and democracy.
Have a happy festive season!