The taxi industry has been hit hard by the country's coronavirus regulations that limit the number of passengers they are able to transport per trip.
Teboho Tladi (38) is pleading with citizens to play their part in combating the spread of the coronavirus disease (COVID-19), so that taxi operations can go back to normal and he can provide for his family.
The Pretoria-based taxi driver, who has been in the business for 13 years, says this is the first time he has felt such a knock on his finances.
He transports commuters between Mahem in Hercules and Pretoria's central business district.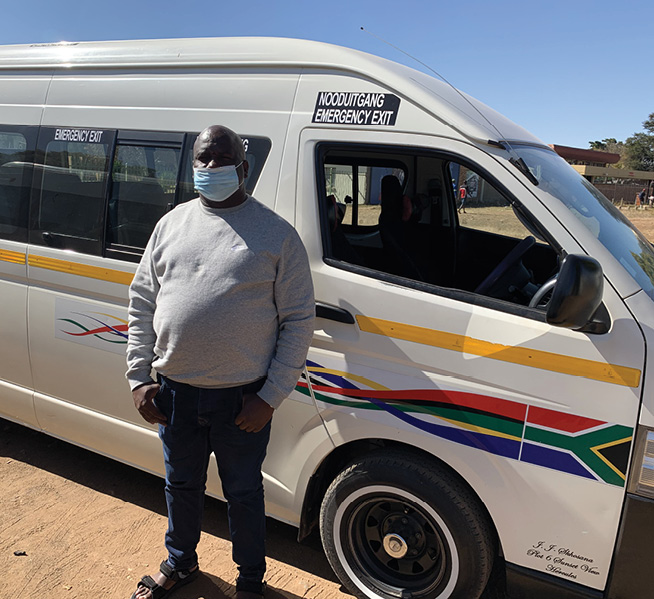 "Due to observing lock-down regulations as a taxi driver, I no longer make enough money. Business is suffering. I used to fill the 15-seater taxi, but now I can only take a maximum of 10 people per load. Also, not many people are using taxis because they have been advised to minimise their movement," he says.
"Before the lockdown, I would make at least R1 000 per day, but now I only manage to make R400 or less per day. On top of this, I still have to buy fuel for the vehicle and try to make money for the owner as well," he says, explaining that it's difficult to make ends meet.
Some taxi owners have agreed with drivers to decrease their targets. "They are aware of what is happening and how the industry is affected. The agreement is between the driver and the owner, and I cannot speak for other people," he says.
The financial burden is heavy on Tladi, especially when it comes to paying his rent. "One of the things that helps is that my three children are not going to school and are learning from home. So, I use some of the money I would have used for their educational needs to take care of other household needs, including rent. My wife and I add our income together so that we can survive," he says.
Although Tladi is uncertain about what the future holds for the industry, he psays everyone must follow government's guidelines to fight the spread of COVID-19 so that he can start loading the taxi to its full capacity again.
He also says help from government would help him and his colleagues to provide for their families.
Transport Minister Fikile Mbalula recently announced that government is working on a relief fund for the taxi industry.
"These funds are to assist the industry. They cannot replace the losses that operators have incurred as a result of COVID-19," the Minister says.