Women's Month

Women's Month celebrates women's achievements in pursuit of gender equality in all aspects of life in South Africa. It is also a time to reflect on the work that still needs to be done to achieve gender equality and genuine freedom from poverty and abuse in a modern democratic society.
President Oliver Reginald Tambo, a renowned son of our soil, was a leader who believed strongly in gender equality and women's emancipation. He was also a selfless patriot who lived and strived for the liberation of our country and its people. In his honour, we declared the year 2017 the Year of Oliver Reginald Tambo.
The National Women's Day on 9 August pays tribute to women and their role in the liberation struggle. This year it takes place at the same time as the centenary of Oliver Tambo's year of birth, under the theme "The Year of OR Tambo: Women United in Moving South Africa Forward".
The year 2017 marks the 61st anniversary of the Women's March to the Union Buildings in Pretoria on 9 August 1956. On that day up to 20 000 women of all races, class and religious persuasions protested against the extension of Pass Laws. The march was a turning point in the role of women in the struggle for freedom and our society at large.
Unite to prevent abuse
We began this year with an alarming increase in the levels of attacks and killings of women and children, as well as human trafficking, in some parts of the country. We must unite to prevent such violence against women, support survivors of abuse and bring perpetrators to justice.
It's our responsibility to prevent abuse and ensure a safer society for women and children. It is only through our collective efforts that we can create greater awareness, and reduce the number of sexual offences as well as attacks on women and children.
As reported in Vuk'uzenzele this month, the National Dialogues on Violence against Women and Children will also help to combat the continued scourge of violent attacks on, and abuse of, women.
These dialogues are a platform for deepening democracy whilst ensuring safer and crime-free communities especially for women and children.
The Report on Status of Women in the South African Economy indicates that in the area of poverty and inequality, women remain poorer and more women than men tend to live below the poverty line.
Access to economic opportunities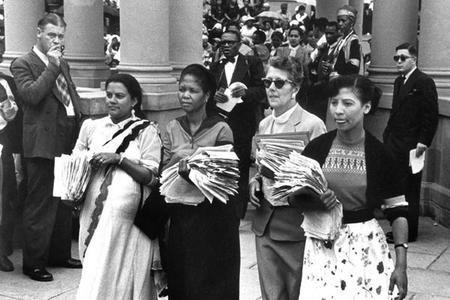 The South African economy has moved into technical recession and, invariably, women will be most affected by the economic decline and will bear the brunt of its resultant negative economic and social effects.
As government, we will continue to focus on the empowerment of women in all government programmes and prioritise women's access to economic opportunities and, in particular, to business financing and credit.
Through government policies, we are ensuring the full participation of women in the economy and driving an inclusive economy. We have introduced the Gender Equality Bill to accelerate the empowerment of women and attain 50/50 gender parity for the country.
The National Development Plan also identifies the financial inclusion of women as a critical tool that will result in quicker poverty elimination, reduce inequality and contribute towards the achievement of the 2030 target.
Breaking gender barriers
The advancement of women's emancipation is everyone's business and needs the support of government, business, labour and civil society. We must continue to work together to remove the barriers, which prevent women from entering and thriving in the labour market.
We also pride ourselves on, and celebrate, women achievers and the empowerment of women, some of whom have taken their rightful place in Parliament, government and civil society at large.
Over the last 23 years of democracy, we ensured that women enjoy the same rights as their male counterparts in education, business, employment, property, inheritance and justice. They broke gender barriers and entered previously male-dominated sectors such as mining, construction and infrastructure development.
Today, we have more women serving as judges and magistrates and in senior management positions in the public service.
While South Africa has made great strides to advance women in our country, we believe that more needs to be done to overcome the triple challenges of unemployment, poverty and inequality. 
During this Women's Month, therefore, we urge women to continue playing a central role in building our economy and a strong nation. It is critical that we continue to advocate for women's empowerment and raise awareness in order to change gender-based norms and practices that continue to keep many women confined to the margins of our society and economy. It is what OR Tambo would have continued to advocate for, had he still lived.