Learners are advised to approach each day of the school year as if they are writing an examination the next day.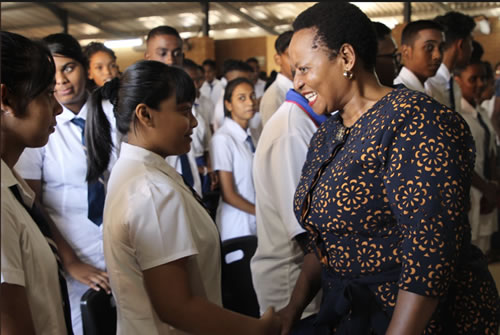 This advice comes from the Deputy Minister of Basic Education, Dr Makgabo Reginah Mhaule, who said in order for learners to achieve desirable marks at the end of the year, they must start taking education seriously from the beginning of the first quarter.
"It is dangerous for learners to start a year with the attitude that there is still a lot of time for them to study because the year has just begun. They must start studying as if they are preparing for final examinations," she said.
Her message was directed to learners in all grades, not  only Grade 12.
"All the grades must be taken seriously because you start building up from Grade R to Grade 12," the Deputy Minister said.
When it comes to teachers, she said it is important that they cover all aspects of the curriculum.  
The Deputy Minister said it is important for both teachers and learners to be tolerant of each other because the generation gap can sometimes cause conflicts.
She called on parents to support their children in their studies and to create a conducive environment for learning.
"Parents must support teachers. We cannot leave our children with teachers and when we are called to attend meetings at school, we do not attend. It is a parent's responsibility to attend all school events that involve them in order to know who the teachers are and to get information about their children's behaviour at school," she said.
The class of 2020
She had a special message for the matric class of 2020.
"Acknowledge the 11 years that you have travelled to get to Grade 12. Do not let all the work that you have done over the years go to waste. The class of 2019 has set the bar high. Raise the bar. Do not lower the standard," she said.
She encouraged learners to form study groups as early as the first term so that they can do well at the end of the year. 
Class of 2019
In the beginning of the year, President Cyril Ramaphosa congratulated the class of 2019 on achieving an 81.3 percent matric pass rate, which is the highest since the advent of democracy in 1994.           
Free State - 88.4 percent
Gauteng - 87.2 percent
North West - 86.8 percent
Western Cape - 82.3 percent
KwaZulu-Natal - 81.3 percent
Mpumalanga - 80.3 percent
Eastern Cape and Northern Cape - 76.5 percent 
Limpopo - 73.2 percent.