Thousands of athletes from across South Africa and the world are set to take part in this year's down run of 90.184 kilometres during the 2018 Comrades Marathon which takes places on Sunday 10 June.
This will be the 46th down run since the Comrades inaugural hosting in 1921 and starts at the Pietermaritzburg City Hall while the finishing line is the Moses Mabhida Stadium in Durban.
Vuk'uzenzele spoke to Celiwe Msomi of Ulundi in KwaZulu-Natal who is one of the female athletes who will be participating in the Comrades Marathon for the second time this year.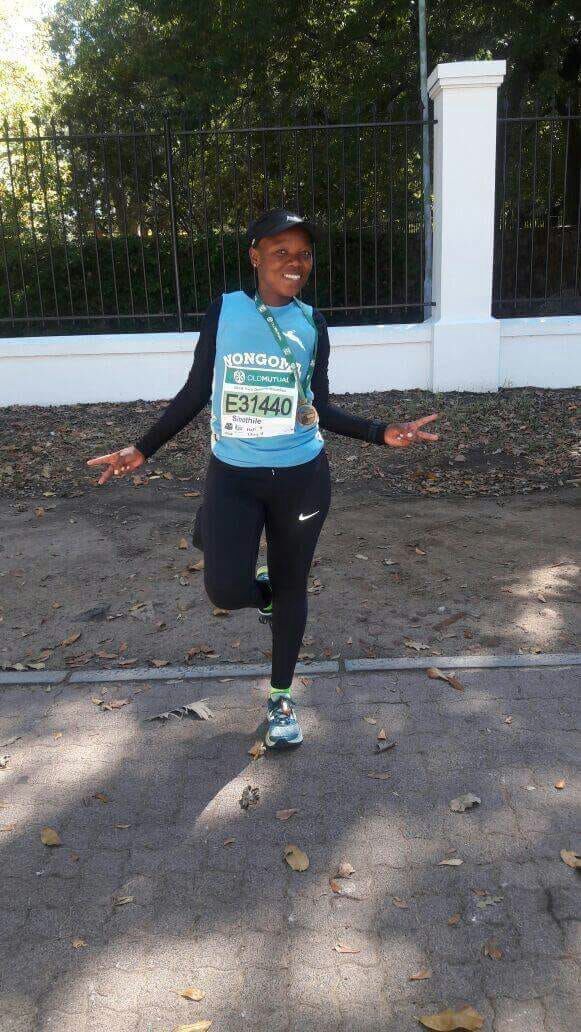 She said she started preparing for this year's Comrades in December last year.
"I also participated in Two Oceans Marathon in March this year just to check if I am fit enough to finish the race. I think I am ready," said the 33-year-old Msomi.
She said she has always loved sports but netball was her love of all times. "I only started running marathons in 2016 during the Mandela Day Marathon and I have never looked back since then," she said.
"This will be my second Comrades Marathon. My first was in 2017, and I finished it within 11hours and 51 minutes," she added.
Msomi, who works as a Recreation Promotion and Development Coordinator for the KZN Department of Sports and Recreation, said her goal with this year's marathon is just to finish in less than 11 hours.
She normally takes part in marathons with members of her team called Nongoma Rabbits Athletics Club.
"I would like to encourage other women to participate in sports because it is good for their health and fitness and it is a good way to distress," Msomi said.
Last year's race was won by Bongmusa Mthembu.
Comrades Marathon Association (CMA) Race Director Rowyn James confirmed that special arrangements will be implemented in order to ensure that disabled participants are once again enabled to participate in this year's event.
"The Comrades Marathon Race Organising Committee has ensured that the route is conducive to the inclusion of wheelchairs. The safety and well-being of all participants is the biggest priority for us as the organisers, hence special precautions have been taken into account and the determination that our wheelchair participants will start ahead of the rest of the field this year," said James.
Route to finish
He has advised Comrades Marathon runners and supporters to heed the following advice:
For family, friends and supporters making their way into Durban from out on the Comrades route to meet up with their runner please use the following recommended route so as to avoid any potential delays in the city due to the way that the runners will be entering the city precinct.
Take the N3 towards Durban and at the E B Cloete Interchange (otherwise known as Spaghetti Junction) take the N2 North towards Umhlanga/ King Shaka International Airport.
Take the Umgeni Road (Exit 170) Interchange fly over and proceed along Umgeni Road, passing Makro on your right hand side.
After 4km turn left into Smiso Nkwanyana Road and then right into Masabalala Yengwa Avenue. From here various advertised parking options will be available for you to use.
As the N3 highway from Durban into Pietermaritzburg at the Market Road off-ramp area will be reduced down to one lane as of 3am (to allow for fence construction as the race will be run on this section of the highway) there is definitely going to be congestion and a bottle neck effect happening here as athletes make their way to the start.
We strongly recommend and caution you that to avoid any unnecessary stress of getting caught up in this congestion that you leave Durban 45 minutes earlier than you were originally anticipating to, in order to pass through this reduced lane area on your way to the start with minimal disruption or stress.
"Please heed the advice on this alert and leave Durban earlier than originally planned. Note that the start of the race will NOT be delayed for latecomers," James said.