Dear Vuk'uzenzele Newspaper Editor
 I hope this email finds you well. My name is Manqoba Masondo. I stay in Ladysmith, KwaZulu-Natal. I am a writer as well as a Law student at the University of South Africa. I am also a member of Vulindlela Writers Club.
 I was fascinated by how you tell real stories in Vuk'uzenzele Newspaper. I have been a fan of your newspaper for a couple of years now. I am really inspired by your stories and the fact that they encourage the youth to chase their dreams. The stories published in Vuk'uzenzele Newspaper have also made me pursue my goals like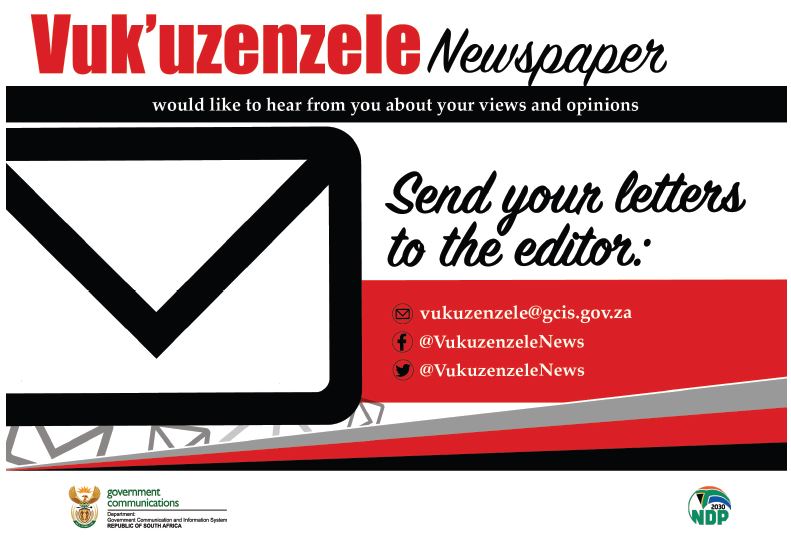 the youth I have read about. Furthermore, I am now a published author. My work was first published in 2017, I wrote a short story that was published by Kwasukela Books, titled 'Izinkanyezi Ezintsha'.
Yours sincerely.
Manqoba Masondo.
-------------------------------------------------------
Dear Vuk'uzenzele Newspaper Editor
My name is Nurse Nyambi, I am a Xitsonga teacher at Dan Primary School in Tzaneen, Limpopo. I love reading Vuk'uzenzele Newspaper, this publication has good lessons which I also teach to my learners.
Thank you
Nurse Nyambi
Vuk'uzenzele Newspaper would like to hear from you about your views and opinions
Send your letters to the eidtors:
E-mail: vukuzenzele@gcis.gov.za
Facebook: @VukuzenzeleNews
Twitter: @VukuzenzeleNews