It is all systems go for Mamelodi Sundowns and Spanish team Barcelona when they go head to head in honour of late President Nelson Mandela at FNB Stadium in Johannesburg.
The Brazilians who recently won the league for a record eighth time will host the Spanish champions in an international friendly at the Stadium today at 6pm. The game is also part of the Nelson Mandela Centenary celebrations.
Pretoria resident and soccer fan Mduduzi Mfeka has thrown his weight behind Mamelodi Sundowns and says he is excited to attend the game.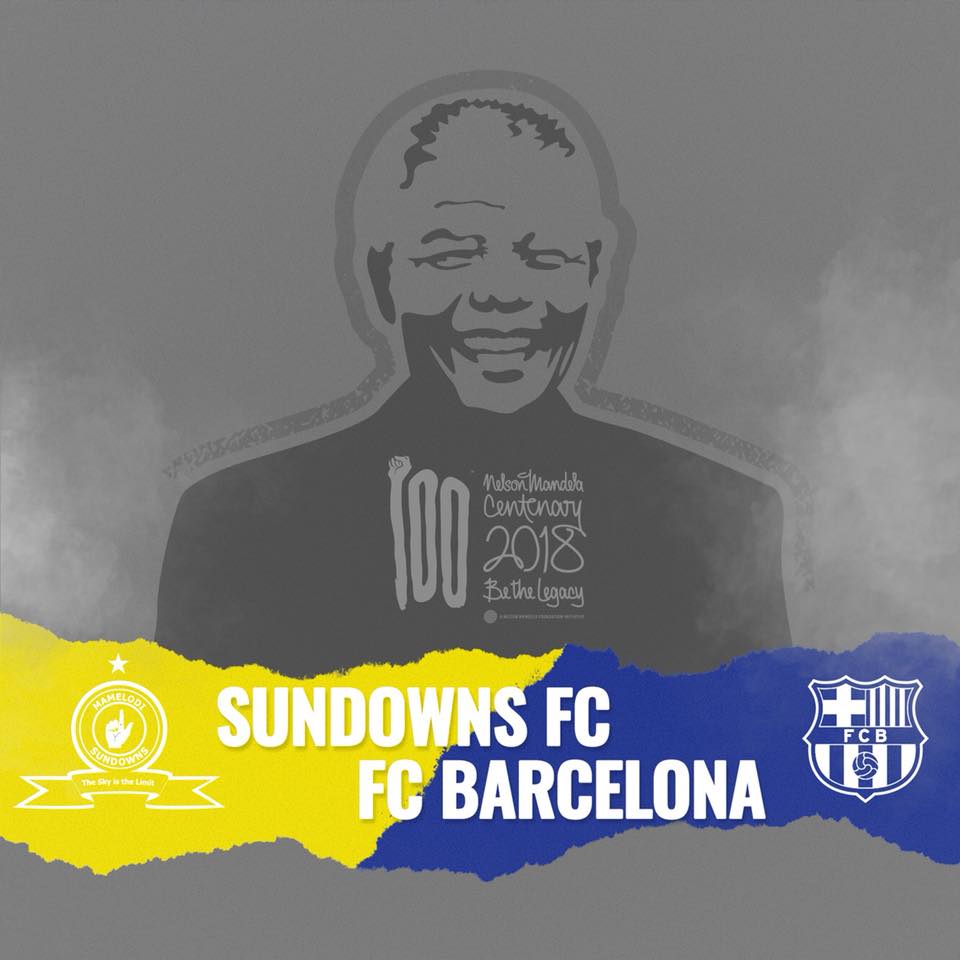 "This game is a great way to put South Africa on the map. Usually I am a Barcelona fan but because this game is being played in my country I am fully behind Mamelodi Sundowns."
Mfeka said he expects Barcelona to win but he is confident that Mamelodi Sundowns will put up a tough fight.
"This is an opportunity for people like Percy Tau to really put on show with the international community watching. Tonight the whole world will be watching South Africa and I am very happy to be a part of that."
Mfeka also said the game was a great way to honour former President Mandela who was a unifier and used sports as a ways of bringing people together.
Barcelona will bring their star players including Lionel Messi, Luis Suarez and Andres Iniesta who have already arrived in the country early this morning.
This will be the second time that Sundowns play Barcelona in the country. The Catalan giants faced Masandawana at Loftus Versfeld in 2007.
Mamelodi Sundowns President Patrice Motsepe said he would like to see the Brazilians friendly with Barcelona motivate the youth to pursue their dreams.
"I know how big this is [game] is for the youth. I remember when I was a young follower of football and I went to the Orlando Stadium and watched all the great players they inspired me."
Mamelodi Sundowns coach Pitso Mosimane said he was excited to be up against one of the best football teams in world football.
"If we win it will be unbelievable. You never know maybe we can rise to the occasion and give them [Barcelona] a scare," said Mosimane.
Jacques Grobbelaar CEO of Stadium Management SA said tickets for the game have sold out.
There will be more than 1 600 security officers at the game helping to manage around 87 000 fans.
Johannesburg Metropolitan Police Department spokesperson Wayne Minnaar said traffic will be diverted on certain roads around FNB stadium which include Nasrec road and Roadshow road.
Minnaar said the Soweto Highway will be blocked off from 11am.
"Fans can use top six taxis from Soweto and Metro Rail will transport fans at no cost from Pretoria, Germiston, Oakmore and Park Station but fans need to show a valid match ticket."
"Buses and taxis will be allowed to drop off fans and park next to the Transport Hub on the side of the FNB railway station and roads will be reopened at 9pm.