Reavaya commuters should not worry about money loaded on its card payment system because the funds can be used when the strike is over.
Thousands of commuters making use of bus services have been left stranded following the nationwide bus strike currently underway.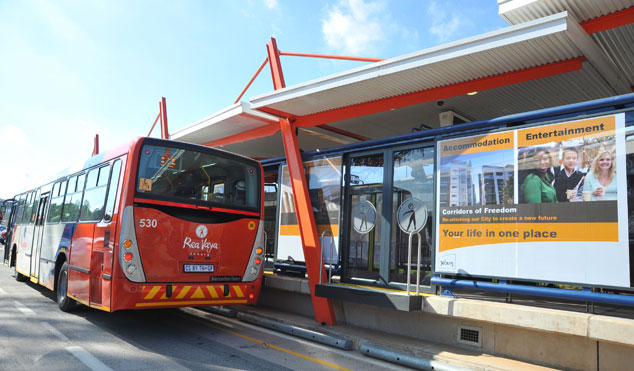 This comes after drivers affiliated to the South African Transport and Allied Workers' Union (SATAWU) downed their tools leaving many commuters to make alternative plans to go to work and school.
Speaking to Vuk'zenzele this morning, affected commuter Tracy Ndlovu says, the bus strike is really an inconvenience especially for those who didn't know from yesterday.
"Some of us weren't really aware of the strike so we couldn't even plan around it."
"Trying to catch other means of transport in the morning was really difficult because the taxis were also full," says Ndlovu.
Another commuter Jade Harris says that the bus strike is causing him to dig deeper into his pockets.
"I honestly feel like this strike is messing with my plans. I load all my transport money into Reavaya so something like this really sets me back in terms of my budget.
"Not only am I getting to work late, but I'll now be stuck between a rock and a hard place in terms of my finances before month end," says Harris.
Reavaya's Benny Makgoga said commuters should not worry about money loaded on its card payment system.
"The card works just like any bank debit card, if the money loaded on the card has not been used it will remain safe and commuters can use this money when the strike is over."
Bus drivers are demanding a 12 per cent salary increase across the board which translates to R8 000, while their employer is offering a three year agreement, with 7 percent the first year, 7.5 percent in 2019 and 7.5 for 2020.
Makgoga added that he was optimistic with the outcome of negotiations with the Commission for Conciliation, Mediation and Arbitration (CCMA) being bought in as a mediator.
Bus services involved in the strike include Gautrain, Reavaya, Putco, Greyhound, Buscor in Mpumalanga and MyCiTi in Cape Town.
Kwa-Zulu-Natal commuters were not severely affected by the national bus strike except for Pietermaritzburg and Newcastle.
In Pietermaritzburg commuters that utilise SMT bus services were forced to use taxis.
Commuters Nombuso Zondi from Elandskop near Pietermaritzburg told Vuk'uzenzele that it would have been better if bus companies informed commuters about the strike.
"Buses from SMT were working normal on Monday but they didn't tell us that they will be partaking in the national strike today. It would have assisted us a lot for planning purposes if they had informed us," said Zondi.
Johannesburg Metro Police Department spokesperson Chief Superintendent Wayne Minnaar said they had not received any incidents of congestion on the road due to the bus strike.
He advised commuters to use alternative modes of transport such as buses and Metrorail trains.
At the same time, SAnews reports Transport Minister Blade Nzimande has appealed to all parties involved in the negotiations aimed at ending the bus strike, to urgently and cordially find a negotiated settlement.
Minister Nzimande's call follows organised labour in the bus industry having served a notice to strike on Wednesday.
This following a deadlock with their employers after failing to reach an agreement in their wage negotiations on Tuesday.
Minister Nzimande said parties involved must find a solution inspired by a common desire to make the bus industry a reliable, attractive and safe public transport mode.