Bridget Khumalo is now an advocate for cervical cancer after being part of the 1950 women who took part in the mass Pap smear campaign held at Inkosi Albert Luthuli Hospital between 21st and 22nd of April.
"It is important to me that I get an opportunity to do a pap smear so that I know if I have any problems in my body. I am appealing to all women to use the opportunity to do their pap smear at local clinics. If there are any complications doctors can detect quicker," said Khumalo who originates from New Germany in KwaZulu-Natal (KZN).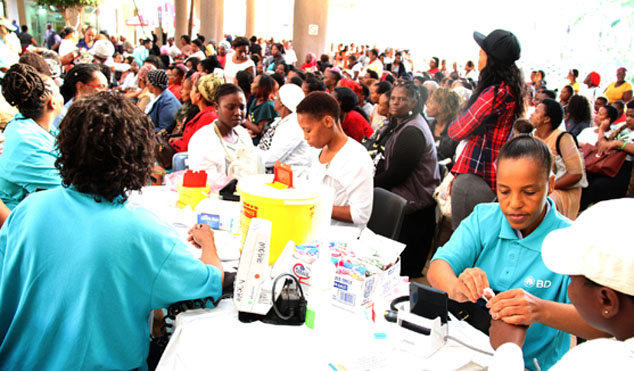 Over the weekend The KZN Department of Health and its partners the University of KwaZulu-Natal and Cancer Association of South Africa aimed to break a record by performing 1000 pap smear tests in one day.
"A pap smear is a simple screening test where we are putting a brush in a cervix and remove the watery discharge which is taken to the lab to check for cancer cells after six weeks they [patients] go back to their clinics to get result," said KwaZulu-Natal Health MEC Dr Sibongeseni Dlomo.
The pap smear drive is part of government's "Phila Ma" campaign, whose objective is to create public awareness about the deadly breast and cervical cancers.
Cervical cancer causes more deaths among women in South Africa than any other cancer. The campaign is also promoting screening to ensure early detection and treatment of cancer.
This number of pap smears have never been conducted in one place on the same day in South Africa or on the African continent.
Fortis Hospital at Vashi, Mumbai in India screened over 751 women in an eight hour marathon setting a Guinness World Record for the highest number of cervical cancer screenings in 2012.
They were beating the earlier record of 350 participants held by Kaiser Permanente, San Diego in the United States of America which achieved its record in 2011.
Both cervical and breast cancer are preventable and can be successfully treated if symptoms are detected early.
Health facilities provide the regular screening so that interventions can be made early if cancer is found.
 MEC Dhlomo expressed his heartfelt thanks to the scores of women who came to get screened as well volunteers, including specialists, doctors, nurses and ordinary citizens who all made the day a resounding success.
The women who got screened will be issued a return slip and asked to return to their local clinics in six weeks' time to get their results.
Those whose Pap smear test results show abnormalities signs of cervical cancer will be booked for a procedure to remove the cancer using the Large Loop Excision of the Transformational Zone (LLETZ) machines.