A partnership between the Department of Education and the United Nations Children's Fund (UNICEF) is proving that with a push in the right direction children can fall in love with reading.
Mogodiri Intermediate school in Ventersdorp, North-West is spurring the culture of reading by encouraging children to read from a young age through the Department of Education's Early Grade Reading Study (EGRS).
UNICEF on the other hand with its implementing partner Class Act is providing training for the teachers to apply EGRS in classrooms.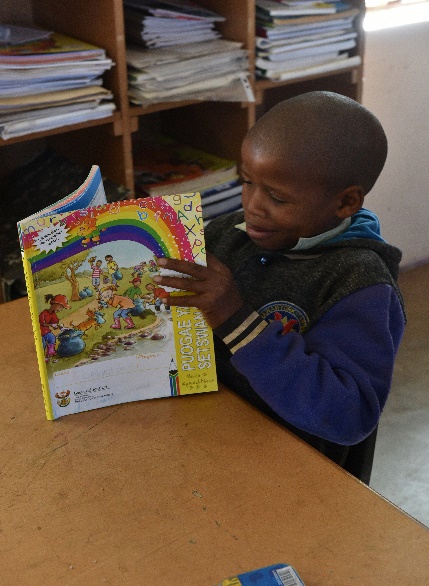 Mogodiri Intermediate School was built in 1937 to serve the children of farm workers.
Maria Tseladimitloa, an Educator at the school has 26 learners in her class, said since the inception of the programme one of her pupils who struggled to read and repeated a grade has made a huge improvement.
"One of my learners has had to repeat grade three but thanks to the EGRS programme there has been a noticeable improvement in his reading ability and confidence levels.  His favourite book is Baking with Granny," said Tseladimitloa.
She begins her lesson by showing examples of phonics in the Setswana language and having the learners pronounce them.
This is followed by creating breakaway groups of six learners and conducts a guided reading exercise where she and the learners read together.
This differs from previous approaches whereby the educator would read to the whole class, which was limiting focused attention and discouraging individual reading.
Reading now is done from books provided by the Department of Basic Education and the progress of each learner is tracked and ticked off in a notebook. A glossary is created in which the vocabulary of each learner is also monitored and there is a spelling test every Friday.
Tseladimitloa uses mind map diagrams and colourful visuals in her classroom to drive home the message that reading is both fun and stimulating.
Tseladimitloa believes that the EGRS has provided much-needed structure and focus for reading lessons, adding that there was no reading plan prior to the introduction of EGRS.
 She attributes her success to the training that she received from Class Act and UNICEF.
Coach Kate Maake from Class Act oversees the training and monitoring of the teachers. She visits the schools on average three times per term.
"I told myself that I need to get these children somewhere, to help the teachers mould them into responsible adults."  
Coaches are trained to train teachers and, embrace the new methodology and routine of EGRS.