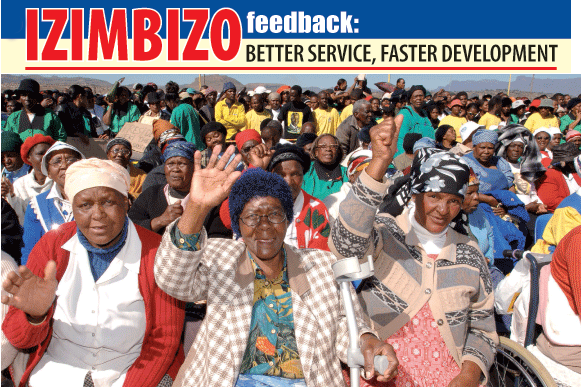 It's full steam ahead for government to reach out to communities through izimbizo. Izimbizo give government and communities a chance to share ideas and join hands to find solutions together.   
 Concerns and needs
At izimbizo, government leaders from our national, provincial and local governments, together with government officials visit communities and listen to people's concerns and needs. This way, communities take part in democracy and assist government with its Programme of Action.  This year's imbizo programme will build on the 2005 izimbizo. It will concentrate on better relations between municipalities and local communities. It will also help municipalities strengthen their leadership to give better services and help economic growth. 
 AsgiSA           
Izimbizo 2006 will also be a chance for government to tell communities how they can be part of the Accelerated and Shared Growth Initiative for South Africa (AsgiSA).  During the year, the President's and Deputy President's imbizo programmes will continue to focus on municipalities under Project Consolidate. These are municipalities that struggle because they lack facilities and skills. Project Consolidate is a government programme to help strengthen such municipalities. The President will also visit some of the municipalities that were visited last year to see if they have made progress.  
 First visit
The first presidential municipal imbizo of the year was held in Thabo Mofutsanyane District Municipality in the Free State. President Thabo Mbeki had talks with councillors, mayors, municipal managers, farmers, farm workers, women's groups and other members of the community.   Three izimbizo will be held every month by the President and Deputy President in different areas, until December this year.  For more information, call 1020 
 Door-to-door
This was the first opportunity after the municipal elections on 1 March, for the district municipality's newly elected councillors and mayors to meet the President.  Apart from addressing meetings of residents, President Mbeki also went door-to-door to visit households. One of the things people were happy to hear about was government's plans to get rid of the bucket system by next year.  The President explained that through the izimbizo programme, government became aware of the problems facing ordinary people. He said government was attending to the problems to meet and fulfil the needs of all South Africans.
 Business
During the imbizo, local business people talked to President Mbeki about how they could work with government to ensure economic growth and job creation.  They also discussed government's development  programmes. "After twelve years of working together, business and government are comfortable with one another," the President said. "We must work ever closer to grow the economy and to speed up development."  -  Justice Mohale 
"We must work ever closer to grow the economy and speed up development"