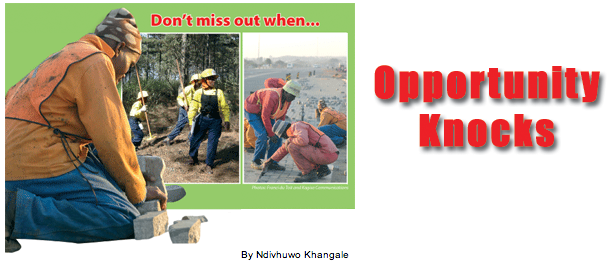 Expanded Public Works Programme
t's possibly one of the best kept secrets in the country. More than 220 000 temporary jobs have been created by a government programme, but there has been very little publicity.  Last year, government announced a new national programme to increase temporary jobs with training opportunities for unemployed people.  Today, 17 months later, the programme — called the Expanded Public Works Programme (EPWP) — has created more than 220 000 jobs through 3 400 projects countrywide.   This is how it happened.  The Department of Provincial and Local Government receives grants from the national government to improve services.  The money is given to municipalities to create more jobs and  train people.  The EPWP is co-ordinated by the Department of Public Works.  EPWP Deputy Director-General Bongani Gxilishe told Vuk'uzenzele that the government has invested more than R15 billion in the programme. 
Economic opportunities
"The EPWP is in its first year. Unfortunately, it seems as if many municipalities do not inform people about the programme and its opportunities. Municipalities have to use this programme to create jobs. Our main focus is the rural areas where there are many unskilled, unemployed people who have not yet enjoyed the benefits of the economy," he said. He said the 220 000 jobs were created through EPWP's four divisions – the infrastructure division, the social division, the environmental division and the economic division. 
Children
"When we talk about infrastructure, we talk about people working on projects such as road construction in rural areas.  The social division involves Early Childhood Development, where volunteers take care of children while their parents are at work. It is also about community-based health care, where volunteers look after people infected with HIV/Aids.  
Fire prevention
"The environmental division creates jobs through water purifying projects, fire prevention and the maintenance of parks," Gxilishe said. He said through the Construction, Education and Training Authority (Ceta), people are trained in the fields of their choice.  Gxilishe said government has a target of thousands of learner-ships in the economic sector alone for the next five years. "We have also made a deal with Absa Bank to provide financing for those who want to start their own businesses after training. "Volunteers working with HIV-positive people are trained and registered with the Department of Health. After completing their training, volunteers receive certificates that qualify them to be employed in government departments. Some get allowances from the Department of Social Development and Health." 
Infrastructure
Gxilishe said infrastructure programmes such as road construction were implemented at provincial and local government level according to their needs. They inform communities either through notices, ward councillors or by inviting people to the offices for more information. 
To find out more about the Expanded Public Works Programme
Gateway Call Centre       1020                e-Gateway          
www.gov.za
How we did it
After passing matric at the George High School in the Western Cape, Georgrika Williams (20) went to Johannesburg to try her luck, but could only get a job as an assistant in a clothing shop.  When she heard about the Working on Fire (WoF) project, she knew it was a chance to change her life.  After the first training, Williams spent days in the mountains around George clearing vegetation and building fire breaks.  Less than a year after joining, Williams was promoted to a level-two crew leader.
And where to from here?
"I want to be in an office, with a computer, deciding where the team should go. Actually, I think I'll buy myself an Opel Corsa very soon," she said with a smile.  
 When Phumza Matitiba (32) of Port Elizabeth in the Eastern Cape told her husband Dalinyebo about her wanting to join a project called WoF, he feared for her life. But, as the mother of three always wanted "to stay fit and enjoyed exercising", the task was easy.  "I knew I was capable of doing something with my life and for my country, but there were no opportunities in my community.  "It is not only about fire. We also make fire breaks and chop vegetation," said Matitiba about the two-year-old programme.  She now leads a 22-member-team at the Jansenville Fire Base near Port Elizabeth.
WoF is one of government's poverty relief projects that train unemployed women in rural areas to stop veld fires. It is part of the EPWP