Government departments tabled their 2022/23 financial year budgets in mid-May. Vuk'uzenzele shares some highlights.
Higher education, science and innovation
The Minister of Higher Education, Science and Innovation, Dr Blade Nzimande, announced a budget of R130.1 billion to be distributed between six programmes, namely administration, planning, policy and strategy, university education, technical and vocational education and training (TVET), skills development and community education and training.
"Government remains firmly committed to financially supporting students from poor and working-class backgrounds while putting a sustainable mechanism in place to support students from the so-called 'missing middle' and postgraduate students," he said.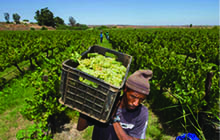 The National Student Financial Aid Scheme's (NSFAS) budget is R49 billion, of which the Department of Higher Education and Training (DHET) is contributing R45.9 billion. 
"This includes funding reprioritised from the departmental budget to ensure that the full shortfall for the NSFAS is addressed in 2022/23 to support students during the 2022 academic year," Nzimande confirmed.
He added that the National Skills Fund will provide R866 million in budget support for scholarships and bursaries, made up of R221 million to the National Research Foundation; R527 million to NSFAS; R80 million (R241 million over the Medium Term Expenditure Framework) to the Department of Agriculture, Land Reform and Rural Development; and R37.9 million to the DHET Internal Scholarship.
This financial year, R7.584 billion is available for investment in infrastructure projects across the 26 universities, with R2.953 billion going towards student housing for the delivery of 16 858 beds across 11 universities.
"Clearly, R2.953 billion is inadequate for student accommodation, therefore we will seek private sector partnerships, including those already indicating they are investing on their own," he added.
Agriculture, rural development and land reform
The Minister of Agriculture, Land Reform and Rural Development, Thoko Didiza, said the department's budget for this financial year is R17.3 billion. 
Of this, the following amounts have been allocated: 
Ilima/Letsema Conditional Grant (R610 million).
Comprehensive Agricultural Support Programme (CASP) (R1.2 billion).
CASP Extension Services (R304 million).
Commission on Restitution of Land Rights (R3.7 billion).
Agricultural Research Council (R1.2 billion).
National Marketing Council (R48.5 million).
Ingonyama Trust Board (R24.4 million).
Exciting news for the sector was the Minister's announcement that the Agriculture and Agro-Processing Master Plan was signed just before her Budget Vote on 12 May.
"This Masterplan is lifting our gaze to imagine the agricultural sector we want in South Africa. We want a prosperous and inclusive agricultural sector that thrives on better use of its natural and human resources," she said.
The Minister also highlighted the department's transfer of R400 million of the committed R1 billion grant to the Agri-Industrial Fund, as per the Memorandum of Agreement with the Industrial Development Corporation.
"In our first year, the facility funded nine projects (R384 million). All of these projects are black-owned and operated and four are women-owned. This facilitated 229 new jobs," Didiza confirmed.
There are 31 transactions in the pipeline requiring R2.2 billion, of which R623 million is grant funding. "It is envisaged that 1 371 new permanent jobs will be created through these initiatives."
Health
The Department of Health's budget for this financial year is R64.5 billion. 
Health Minister Dr Joe Phaahla said 86% of the budget will be transferred to provinces as conditional grants to support various activities, including HIV/Aids and TB programmes; human resources, including medical interns and community services doctors; and infrastructure support.
The department's main focus this financial year will be on recovering comprehensive health services. 
"Going forward, the key is to integrate the mitigation against COVID-19 into our basket of services from primary healthcare levels upwards, including the vaccination programme which must increasingly be part of our comprehensive services," Minister Phaahla said.
To this end, the department has allocated R2 billion for vaccines.
Government is still committed to universal health coverage for all South Africans. "Improvement of quality of service at public health facilities will be a major focus in this financial year," said Minister Phaahla.
Provinces will share R6.8 billion in direct conditional grants to construct, revitalise and maintain hospitals, clinics and other facilities.