The Eastern Cape Department of Sport, Recreation, Arts and Culture has given R300 000 each to six recording companies to help develop the province's musical talent.
The grants are part of the Music Excellence Acceleration Programme established in 2020, which supports musicians and music producers in developing and recording their works.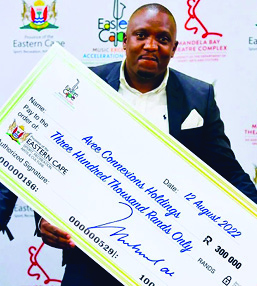 Aviwe Gqomfa (30) from Seymour in the Raymond Mhlaba Municipality is a beneficiary of the programme. His recording company, Avee Connexion Holdings, which was established in 2012, is all about preserving authentic sounds in the area.
"Avee Connexion existed even before its registration in 2016. It has been discovering and developing artists, recording and producing music, writing hits and putting together shows since 2012, nearly a decade now.
"Buying and maintaining studio equipment and funding and developing artists takes money. It is hard to get ahead without a flexible budget. This programme provided us with that – a flexible budget that will allow us to push across borders and grow the Eastern Cape music industry nationally and globally," he says.
Gqomfa says he will use the funds he received to create quality music videos for his existing artists and to create new music.
The Eastern Cape Department of Sport, Arts and Culture says there are plans for a bigger budget to reach the other remote and rural areas.
How to apply for the Music Excellence Acceleration Programme
Documents needed to apply for the Music Excellence Acceleration Programme include:
Company owner details and identification
Company name, registration number and VAT documents
A budget proposal
Portfolio of work previously done.
For more information, call the department at 043 492 0241 or email General Manager Mzonke Stofile on 082 380 8221 or mzonke.stofile@ecsrac.gov.za