The sky is the limit for Mpumalanga poultry farmer Lungile Mkhize, who hopes to establish herself as one of the major egg producers in her province.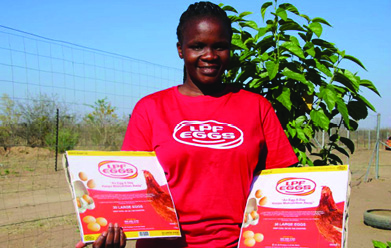 Armed with a Diploma in Agricultural Science from the Cape Peninsula University of Technology, Mkhize (29) is putting her scientific and practical knowledge into practice. She completed her practical training at an established farm, Limiet Rivier, where she learnt how to run a business.
"I made sure I learnt all the aspects of the business, including the administration and financing part of it. I asked my supervisors to involve me in the whole value chain, including the market and customer relations. I wanted to learn about the funding available for small businesses and how to service loans or any borrowed assets. I knew that my vision was not only to grow chickens, but to become a businesswoman," she explains.
Mkhize is on an upward trajectory, after starting out in 2019 with 500 broilers and 300 layers in the backyard of her home in Siyabuswa township, near the Limpopo/Mpumalanga border. She says within a few months, she formalised her business and registered it as Lungile Poultry Farm, with the vision of applying her academic knowledge to create employment for others.
Mkhize currently has 900 layers that produce over 2 000 eggs a day and over 2 000 broiler chickens.
However, starting from scratch was not easy and her parents sacrificed their pension fund to purchase the equipment, worth R380 000, that she needed to start the farm.
In 2020, Mkhize took a leap of faith and successfully applied to the Mpumalanga Youth Development Fund (MYDF), which is a three-year pilot project aimed at supporting youth job creation.
Mkhize says she felt honoured to have been approved as one of the beneficiaries and intends to use the R 2.5 million grant that she received to increase egg production to 40 000 per day by 2024. She also intends to grow her staff complement from three to eight and to employ 10 seasonal workers.
Mkhize recently completed the Embassy of France in South Africa and the Gordon Institute of Business Science's women in agriculture empowerment programme.
For more information about applying for the MYDF, you can email MYDF@mpg.gov.za or call 013 766 2108/2005