Written by: More Matshediso
The Western Cape Department of Education is rolling out various projects to help schools use less electricity.
Through a partnership with the University of Stellenbosch, the department replaced existing fluorescent lights with energy-saving LED lights at 25 schools in a 2021 pilot project that will be rolled out to more schools from October 2022.
Education MEC David Maynier says the department provided 40% of the funding during the 2021/22 financial year.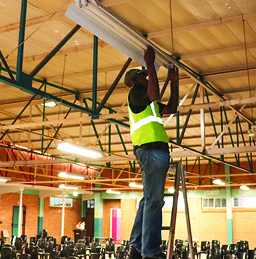 "The replacement of fluorescent lights with LED lights can lead to an annual saving of up to R36 000 per school," he says.
Maynier adds that R28 million has been budgeted for this project and other green initiatives in the 2022/23 financial year.
Given the success of the pilot project, the department is fully funding another 25 schools this year, from an initial list of 100 no-fee, high-enrolment schools.
"High-enrolment schools have higher energy usage and can benefit from these savings, allowing these no-fee schools to spend money on other things," the MEC says.
MEC Maynier says that when schools in the province need to have lights replaced during scheduled maintenance, LED products are used. These lights are also used as standard practice when new schools are built.
Solar panels
Additionally, 41 Western Cape schools have applied to install solar panels to further reduce their environmental impact and electricity costs. The combined peak capacity of these installations is 25.87 megawatts-peak.
The installation is funded by the schools, either through school governing body funds or by entering into lease agreements with firms such as Sun Exchange (a solar leasing platform).
The department says it fully supports these schools' investments, which are valued at over R46 million.
In 2021, Cloetesville Primary School in Stellenbosch became the first school in South Africa to receive an energy performance certificate, thanks to energy-saving technology installed by the University of Stellenbosch and GreenX Engineering.
Then again in August 2022, Cloetesville received a 7.5-kilowatt solar panel system, which will produce about 14 000 units of electricity each year. This means the school has reduced its carbon footprint, while saving around R20 000 per year and selling electricity back to the grid.
  The school's headmaster, Rodger Cupido, says beyond enjoying the financial benefits, the school is not affected by load shedding.