The Department of Trade and Industry (dti), is helping thousands of small businesses in townships and rural areas. Their programme "Taking dti to the People", aims to inform people about products and support services for small businesses, offered by the department and its agencies. This is done through road-shows across all the provinces.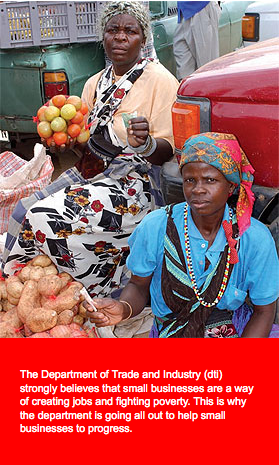 Information sessions
The Department started "Taking dti to the People" in July 2006. Its main purpose is to empower small, medium and micro enterprises in townships and rural areas.
This is done by giving people information that will help them to start new businesses or grow their existing businesses.
The road-shows take the form of information sessions, in which small business-people and those wanting to start small businesses, get advice. It includes how to start and register businesses and how to apply for funds to grow small businesses.
Agencies
The programme also tells people about the department's group products and services, as well as support services by the department's agencies.
These agencies include the Companies and Intellectual Property Registration Office (CIPRO), Khula, South African Micro-finance Apex Fund (SAMAF), the South African Women Entrepreneurs Network (SAWEN) and the Small Enterprise Development Agency (SEDA). SEDA has already established 40 branches around the country.
Women
Through SAWEN, the department started the Isivande Women's Fund (IWF) earlier this year. The fund started by setting aside R500 million to give business-women loans ranging from R30 000 to R5 million. The fund is divided into two focus areas, namely Isivande I and Isivande II.
Isivande I was started with R100 million. Old Mutual invested R50 million as a partner. This portion of the fund helps rural and semi-urban businesses. It targets companies that make a profit of not more than R100 000 per year.
Commitment
"Taking dti to the People" shows government's commitment to work together with communities across the country, as well as with provincial and local governments.
By doing so, the programme reaches remote and deep rural communities where people don't have ready access to information. Getting useful information empowers small-business owners to grow their businesses. It also gives hope to those who want to start their own businesses, but do not know how to start.
Call the Department of Trade and Industry: 0861 843 384, or call 1020
- Mbulelo Baloyi