LETTERS TO THE EDITOR
GIVE US A PIECE OF YOUR MIND
WINNING LETTER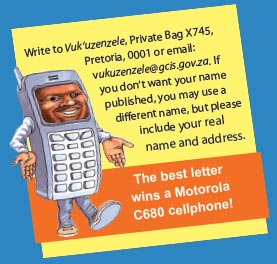 Corruption is a cancer
As weeds overgrow gardens, so is South Africa being invaded by criminal elements that feel thoroughly at home in this country. One can hardly open a newspaper or watch the news on TV without coming across corruption at public level. Corruption is a cancer that can destroy our society and country if allowed to fester. Good governance, democracy, development, law and stability are all impossible in a country consumed by corruption. In the past, we fought against the major evils of oppression, racism and injustice and we won. We should now insist on high standards of integrity and honesty among people in public service or office. Our country is beautiful and promising; we can make it even more prosperous by arresting the escalating levels of corruption.
- Simon Mphulenyane, Botshabelo, Free State
Winner of the Motorola C680 cellphone sponsored by:
LEWIS
Recognise ex-prisoners
Government is spending billions of rands to educate, train and rehabilitate offenders. But the very same government suppresses, ignores and discriminates against ex-offenders - there are no jobs for ex-prisoners in both government or the private sector. Many ex-offenders are educated and rehabilitated; some of them have degrees and other tertiary qualifications! The Minister in the Department of Correctional Services set a good example by employing ex-offenders in his office. Let's support the Minister's aims and plans to build a peaceful and crime-free society. There must be restorative justice, reconciliation and accommodation for ex-prisoners in South Africa.
- Augustine Molai, Pretoria
---
Drugs make you stupid
Drugs and the youth is a major problem in South Africa. Why do teenagers persist in taking drugs, when they know the consequences? Are they just plain stupid? School kids sometimes take drugs on the school premises during classes. Even grade 5 children are becoming addicted. You can't study while you are high on drugs. You'll fail and without education all you will have left is a life of crime and addiction. Drugs make you stupid so you have unsafe sex that leads to HIV and Aids. Drugs will turn you into a slave and you will be unable to do anything with your life except drugs. Is that what you want? The choice is yours!
- Zokwana Papikie, Koringpunt, Limpopo
---
Give us high employment
After ten years of democracy, the rate of unemployment is still rising. Victims of unemployment are mostly youth who are graduates and matriculants. Our government must do something to stop this disaster before it goes further. Let us have a high rate of employment, not unemployment!
- Harmans Pholo, Allanridge, Free State
Reply from the Department of Labour:
The latest figures given by Statistics South Africa shows that unemployment has dropped from 26,5 per cent in March 2005, to 25,6 per cent in March 2006. A total of 1,2 million jobs have been created over a period of five years. The 25,6 per cent unemployment rate recorded in March this year is the lowest since 2001. But there is still a challenge to employ more women. About 62,4 per cent of people who are unemployed are women. To help young people, learnership programmes are being put into place by various Sector Education and Training Authorities (SETAs) so that students can start working as soon as they finish their studies.
---
Show people how to do it for themselves
Unemployment is a problem that faces uneducated people, as well as university graduates, people living in rural areas and those in big cities. It's very unfortunate that some people resort to dangerous, unhealthy, risky and unacceptable ways of earning money, such as crime and prostitution. Government can't offer jobs to everyone. So let us all go beyond just telling people to get up and do it for themselves; we must actually show them and if necessary help them to do it. In this way, we will help government to reduce the levels of unemployment.
- Fanie Jacobson, Cornelia, Eastern Free State
Editor's reply:
We hope you feel Vuk'uzenzele is helping to do this.
---
Proudly South African
The 'Proudly South African' campaign is one of the best campaigns that have emerged from this country since our democracy began. Let us start appreciating African made goods and do away with those products that are imported from overseas.
- Isaac Mtila, Disaneng, North West
---
Roads will be safe only if we work together
I want to convey a very strong message to our traffic officers not to tolerate drinking and driving, especially after all the horrible accidents we have seen in the past few months. I urge traffic officers, drivers, passengers and pedestrians - please work together to see that road safety is applied on the roads.
- Eric Ngxabani, Ezibeleni, Eastern Cape.
---
We must learn to be more dependent on ourselves
I would like to make a sincere call to my fellow citizens, especially we from the previously disadvantaged communities, to shed off a tendency of being 'poor and disadvantaged'. I know very well that the above phrase gives us an advantage when we ask for donations and handouts. We can't go on surviving from handouts from other nations. We must not fold our arms and watch our children drown in the pool of lawlessness and moral decay. Think about positive things that can empower you economically.
- Joseph Sello Dikobe, Jericho, North West
---
Knowledge is precious
People often complain because they are not well informed. The media, non-government organisations, ward councillors, chiefs and the church should all help government to reach people in need of social grants, bursaries, houses, water, electricity and other basic social needs. Knowledge is precious, information is helpful. Ask others and get help.
- Eric T. Chauke, Shirley Village, Limpopo
---
Stop smoking
Thank you for the article in Vuk'uzenzele giving the facts about smoking. It was an eye-opener for me and has changed my life completely. My advice to those who haven't quit smoking is that it's never too late. If I can do it, you can do it. Keep on trying, you will make it.
- Thomo Nkgadima, Pretoria  
All letters on these pages that require a response from government, will be handed over to the relevant department.

We receive hundreds of letters and e-mails from you. Everyone will get a response. Remember to include your name and address.