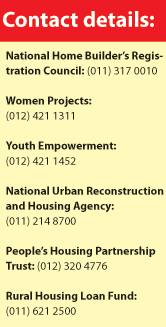 A total of 200 000 low-cost houses are provided by the Department of Housing each year. Through the provinces and municipalities, the Department of Housing is by far the largest constructor of houses in the country.  According to the publication Housing and the Economy of South Africa, private companies  constructed 40 000 houses in 2005, while the government built 200 000. These 200 000 houses are valued at an estimated R4,5 billion per year. In addition to providing low-cost housing, the construction has also created 15 000 direct jobs. A further 14 000 jobs have been created through the manufacturing of building materials.
Empowering women
To empower women, government has distributed 10% of all provincial housing budgets to projects led by women constructors.  Since 2000, 290 out of 2 573 projects were allocated to women.
Training
To involve the youth in housing programmes, there is a youth internship programme targeting students heading for construction-related qualifications, offering bursaries to seven of them for 2006.  In 2007, 20 students at universities of technology (formerly technikons) and universities will receive such bursaries. To make a stronger home-building industry, a skills-training programme for contractors has been introduced by the National Home Builder's Registration Council. This is a body established to protect house-owners from unfair homebuilders. This programme includes a course by the Construction, Education and Training Authority (CETA) in financial, project and construction management.  An amount of R10 million has been budgeted to train 2 700 emerging constructors in housing. To date, more than 250 housing constructors have been trained.  The budget will be increased to R20 million in 2006 and training centres will be established countrywide.
Affordable finance
Other institutions, such as the National Housing Finance Corporation provide, among other things, affordable housing loans. The National Urban Reconstruction and Housing Agency provides finance to established and emerging contractors who build subsidised houses, credit-linked (bond) housing, rental housing and infrastructure and community facilities. During the 2004 financial year, the agency approved 47 loans to emerging contractors to the value of R63 million. It involves about 17 000 housing units. The agency paid out 15 loans to the value of R55 million to established contractors in the same year.
Encouraging support
The People's Housing Partnership Trust supports the people's housing process. The Trust encourages support for organisations that help people to develop building- and project-management skills for housing delivery.  The Rural Housing Loan Fund was formed to assist poor families in the rural areas with funds to build their own houses and improve their living conditions.  In 2005, more than 15 000 people received loans to the value of a total of more than R69 million.