The South African Local Government Association (SALGA) has taken public participation to another level by publishing a children's book aimed at encouraging children interest in local government.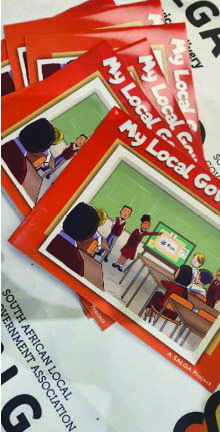 The book titled: My Local Government, was recently launched at the sixth Annual SALGA National Communicators' Forum in Cape Town. It follows the journey of four young characters and a librarian who educate the reader about South African governance.
"As SALGA, we found that not many children understand what local government is and what it is responsible for and so educating children on responsible citizenry became a priority for us. "This book is one of many interventions that we believe will enable children, to change the landscape of public participation," says SALGA spokesperson Marelda Boshielo. The book is targeted at children aged 9 to 12.
It allows children to walk away feeling empowered by all the information they receive. Children also gain an understanding of their rights and responsibilities as citizens.
After reading the book, children will be better informed about the laws that govern their communities and the consequences. The book introduces children to the different spheres of government, which are responsible for basic services such as water, municipal roads, transport and infrastructure.
Boshielo says her favourite aspect of the book is the unique perspective on how children can practise responsible citizenship and hold adults accountable for their irresponsible behaviour.
This is done through a fresh take and age-appropriate manner. SALGA has plans to publish more books, which will focus on some of the key themes of local government, such as infrastructure, careers in local government, community building and provision of recreation facilities. Young children are encouraged to read My Local Government. My Local Government will be free to access at public libraries soon. Digital copies will be available on the SALGA website www.salga.org.za/