Sebokeng residents will enjoy improved access to free health care services as the brand-new building for Zone 17 clinic in Sebokeng in Gauteng has been completed.
It comes with better services that residents could not experience in the old building that was small with limited services on offer.
"We are excited to have this new bigger and better building. People used to struggle to get services here, there were long queues because the old building was small.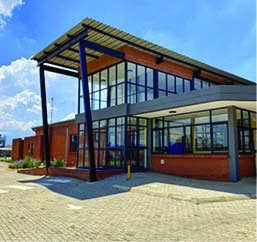 "Patients were referred to other clinics and hospitals because we had few resources and services to offer them for a long time but now that comes to an end as we have a bigger space to accommodate them and better services that will no longer require us to send them to other facilities, we are ready to serve the community." Ms. Christina Mohlamme, expressed her delight speaking on behalf of the clinic management.
The clinic will provide emergency services, minor acute ailments care – a unit that attends to sick people who get helped by primary health care nurses. On site, there is a social worker, physiotherapist, dietician, a daily doctor, eye care, dental clinic, family health, antenatal care,  mother and child services, immunisations, chronic care, a mental health unit and a medical dispensary unit where people will not have to queue to fetch their prescribed medication.
The construction of the Zone 17 clinic started in 2017 at a cost of R9.2 million. The clinic also has outdoor exercise area, two waiting rooms that can accommodate more than 200 people, children's playroom and it has LED lighting which help to save electricity and the use of solar water heating.
The modern design was developed by the Department of Infrastructure Development (DID) and was approved by the Department of Health (DOH) under its National Health Insurance (NHI) pilot phase rollout-plan - which provides buildings and services of high quality to citizens.
The new building has also managed to help some community members to not only get health care services, there are also jobs that have been gained.
Lawrence Kgosi (38) from Zone 17 Sebokeng, is grateful to have a cleaning job at the new building during these tough times of high unemployment in South Africa.
"I feel very good about this clinic, it will save lives and also give people jobs.
"My life was stagnant, things were not going very well. There was nothing happening in my life - it was very difficult. This new job makes a huge difference in my life. I will take care of my child, buy groceries and do things that I have always wanted to do," sighed Kgosi.