Two innovators have designed a self-service certifying document machine that is set to make standing in long queues to certify documents a thing of the past.
Thabang Mamantsebe and Pule Maake, from Ekurhuleni in Gauteng, are the owners of E-Certify, a machine they invented to certify documents using biometric scans (using fingerprints or facial features to identify someone).
Mamantsebe says the main goal of E-Certify is to assist government, communities, human resources management departments and the private sector to make sure that the documents they receive are valid.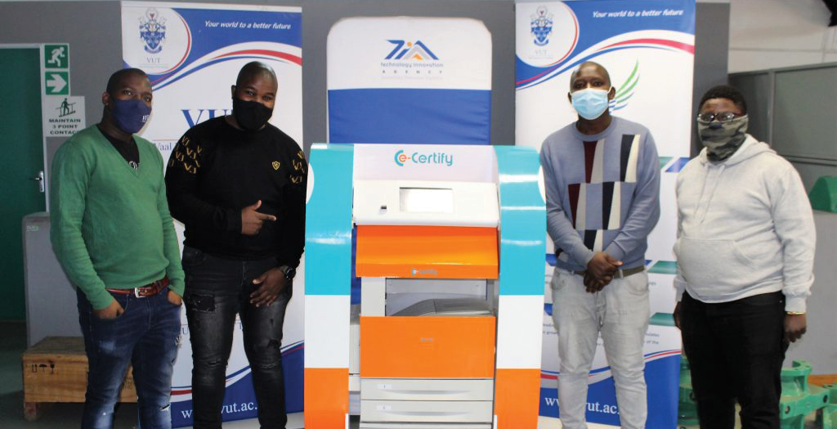 "I thought of the idea in 2014 and presented it to my partner Maake. He took me by surprise and said we are doing this project. Since then, he has been my right-hand man," says Mamantsebe.
In 2015, he tried to have the machine patented, but did not succeed. "In 2017, Maake encouraged me to register the company with Companies and Intellectual Property Commission. I did a second provisional patent and we finally succeeded."
E-Certify is now registered and patented under the Thabi T Group (Pty) Ltd.
The duo approached the Design Department at the Vaal University of Technology Southern Gauteng Science and Technology Park (VUTSGSTP) to help them fine tune their design.
They were introduced to Tebogo Kekana, a product designer at VUTSGSTP, who gave them input on how the machine could be improved.
"Kekana also informed us about the Technology Innovation Agency (TIA) and advised us to apply for funding. We have since received assistance from the agency. We are very thankful to Kekana, TIA and the VUTSGSTP team for their help and guidance," says Mamantsebe.
The machine is easy to use and will reduce long queues at police stations, Home Affairs offices, the South African Post Office and border gates. 
"It scans original documents to verify them and then certifies the copies. Ideally, it will link to the Department of Home Affairs, to validate identity.
"It will also ideally be linked to government departments that need to authenticate documents."
Mamantsebe says he is in discussions with various government departments and state-owned entities for possible partnerships with E-Certify.
To apply for funding from TIA, call 012 472 2700 or apply online at www.tia.org.za/funding-instruments.