Written by More Matshediso
WITH TEN percent of reported rape cases coming from young women in the higher education sector, the Department of Higher Education and Training is seeking new ways to fight the scourge.
The Minister of Higher Education and Training Dr Blade Nzimande has called on men and boys to play an active role in co-creating new ways of relating to women and girls. He made this call during the inaugural Transforming MENtalities Summit held recently in Ekurhuleni, Gauteng. Specifically aimed at engaging men and boys, the summit sought to address the root causes of violence against women. "Transforming MENtalities is about changing the way men and boys build relations with women and girls, the liberation of men and boys from [old-fashioned] and dominant positionalities," said Minister Nzimande. He added that men and boys needed to unlearn habits of reacting and instead embrace new ways of relating with women they are in relationships with.
The summit stems from discussions held within the United Nations Educational, Scientific and Cultural Organization on the universal concern that men and boys need to be brought into the discussions on gender equality.  In order to tread on the rightful path towards a gender-equal society, the Minister said stereotypes and norms need to be rethought, and relationships between women and men reshaped.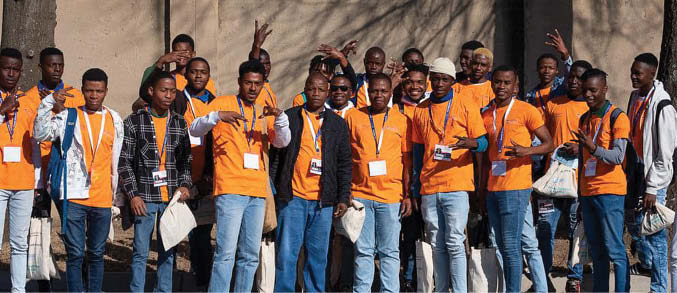 High incidence of rape
Minister Nzimande highlighted that in South Africa, a woman is raped every three hours and it is considered to be the rape capital of the world with 10 818 rape cases reported in the first quarter of 2022.
"The rate at which women are killed by intimate partners in this country is five times higher than the global average. Gender-based violence and femicide (GBVF), a widespread and common occurrence in South Africa, is deeply ingrained in homes, workplaces, cultures and traditions," Minister Nzimande said. 
The Minister added that the GBVF pandemic has far-reaching effects that extend beyond the violence itself as it manifests in various forms that include physical, emotional, psychological, financial structural harm and is usually perpetrated by intimate partners, work colleagues, strangers and institutions.
GBVF in higher education institutions
Higher education institutions are part of the broader society, and it is hard to isolate them from the violence that is prevalent in communities. Minister Nzimande said the sector is home to more than 2. 5 million youth with 51% being females.  "Ten percent of all reported rape cases originate from young women in the higher education sector. It is sad that only one in 10 women report a rape case."
The department, through Higher Health, has done some work over the past few years to implement sustainable and impactful systems, controls, infrastructure, and safety nets to address GBVF within the Post School Education and Training sector. Higher Health works in eight key areas to promote the health and wellbeing of students across South Africa's 26 public universities, 50 technical and vocational training colleges and nine community education and training colleges. Higher Health is currently working with the National Prosecuting Authority to develop protocols on statement of complaint, whistleblowing and other legislature.
For more information about Higher Health visit www.higherhealth.ac.za
If you are a survivor of GBV and need help contact the GBV Command Centre on 0800 428 428, or send a 'Please Call Me' to *120*7867# or SMS 'help' to 31531. 
A Skype Line is also available for members of the deaf community (add 'Helpme GBV' to your Skype contacts). The centre operates 24 hours, seven days a week.