Written by More Matshediso
When Martin Boima could not further his studies after completing matric in 2017, he considered agriculture and agro-processing as a way to secure his future and create employment for fellow residents.
"My mother left my younger brother and I when we were still young, and we were raised by my father. Unfortunately, my father passed away while I was still in matric. There was no way that I could further my studies after completing matric because I now had a younger brother to take care of. I had to look for a job," he said.
The 27-year-old is the founder and director of Martin's Nature Care, a start-up that specialises in agro-processing, crop and poultry farming in Mopye village in Bolobedu, Limpopo.
"I started the business in 2017 but only registered it in 2020. It all began with planting vegetables on a one-hectare plot at home. In 2019, I added poultry farming to the business and only started with 100 chicken layers," he explained.
His love for natural and healthy food products also motivated him to start manufacturing food products using soldier termites, marula nuts and peanuts.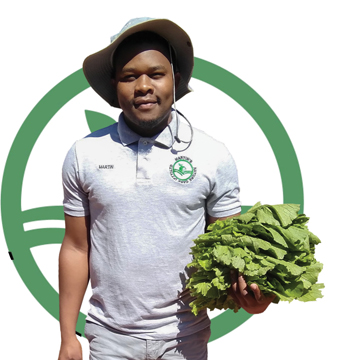 "An official from the University of Limpopo found out about my business in 2021 and the university offered me an opportunity to complete a short course in food safety and general manufacturing for free, which I completed the very same year," he said.
This helped him improve manufacturing the products. He now sells termite delight granola, marula crunch granola and peanuts powder to residents around Tzaneen.
"These food products are healthy because they are high in protein, fibre and energy," he said.
In 2021, the Small Enterprise Development Agency (Seda) assisted Martin's Nature Care in getting its products tested for microbiology and nutritional analysis at the South African Bureau of Standards (SABS).
Seda has also equipped Boima with business and marketing management skills.
In the same year, the company received a R37 000 grant from the National Youth Development Agency (NYDA) to buy manufacturing equipment.
Boima was recently approached by the German Development Cooperation (GIZ) South Africa for assistance with business certification for access to other markets.
At the moment, the business specialises in growing and selling baby marrow, mustard greens, spinach and tomatoes. It currently produces 500 broiler chickens, and 2 000 chicken layers per cycle.
So far, the business has created three permanent jobs and is currently hosting 15 agriculture students requiring practicals in the business.
"These students are from Tshwane University of Technology, Nelson Mandela University and Lethaba TVET College. I have partnered with these tertiary institutions to host their students annually since 2022," he said.
In June this year, Mokhadi won a R20 000 voucher when the Limpopo Department of Agriculture recognised him as the best agro-processor in the province. He still hasn't used the money
In the same month, Sunday World newspaper also recognised him among the 2023 Unsung Heroes: Celebrating Youth, under the Youth in Agriculture category.