Drivers need to be extra vigilant when it comes to sticking to speed limits and obeying road rules, following President Cyril Ramaphosa's signing of the Administrative Adjudication of Road Traffic Offences (Aarto) Amendment Act into law in August.
Aarto, which is being introduced to improve law-abiding and safer driving behaviour to reduce road accidents, will be implemented once it has been gazetted.
The Department of Transport says it will help address the higher number of road accidents.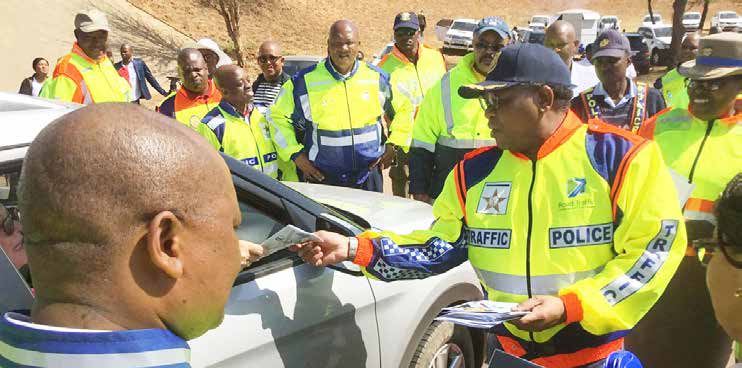 "The Aarto Act is an objective and fair system of identifying reckless drivers and law breakers so that we can remove them from the driving fold," said Transport Minister Fikile Mbalula.
"We will be able to adequately address the carnage on our roads. We are burying far too many people as a result of crashes. In 2018 alone, 12 921 people lost their lives in road collisions in South Africa. Each death represented an average loss of R4.6 million to the economy, in terms of lost productivity, pain and suffering and legal and funeral costs," he said.
Under the Act, failing to pay traffic fines can lead to a block on obtaining driving and vehicle licences and an administrative fee, in addition to other penalties.
The Act also states that documents, which previously had to be delivered by registered mail through the post office, can now be served electronically and reminders can be sent via WhatsApp and SMS.
The Minister said driver rehabilitation programmes would be put in place for infringers who have their licences suspended. "This shows that Aarto is not just about punishment, but has intentions to ensure compliance and change road user behaviour," he explained.
The demerit system
The Aarto demerit system will penalise drivers and operators who are guilty of infringements or offences, by allocating demerit points that could lead to the suspension and cancellation of driving licences, professional driving permits or operator cards.
Every licenced driver starts with zero points. Points accumulate for every act that is against the law, until they reach a maximum of 12. Depending on the severity of an offence, between one and six points can be allocated at a time.
A person is allowed to drive until he/she reaches 12 points, thereafter any more points result in a licence suspension.
When your licence is suspended you must immediately hand in any driving licence or professional driving permit to the issuing authority for retention during the disqualification period.
You may also not apply for a driving licence, professional driving permit or operator card during the disqualification period.
Any person who drives or operates a motor vehicle during his or her disqualification period is guilty of an offence and liable, on conviction, to a fine or imprisonment for a period not exceeding one year or to both a fine and imprisonment.
When the disqualification period has ended, you may reapply for and be issued with a licence. However, when a licence has been suspended for the third time, it is cancelled.
Unlicenced drivers will receive no discount and their demerit points will only start to reduce once their licence is issued. However, unlicensed drivers caught for the third time will be arrested.
If you elect to go to court for an offence, demerit points are only recorded when you are found guilty.
If you appeal against a conviction, no demerit points are recorded unless the appeal is rejected or abandoned. Nothing prevents you from approaching a court to appeal or review the total amount of demerit points recorded against your name.
The demerit system also rewards law-abiding drivers by reducing one point, every three months, if no infringements have occurred. Points can be reduced until the driver again reaches zero points.
Minister Mbalula said it was clear that with the increasing carnage on South Africa's roads, something has to be done to bring unlawful drivers to book.
"We have won an important battle, but the war on road fatalities is not yet over. Here is to many victories ahead, as we work together to ensuring safer roads," said Minister Mbalula.
"We will be able to adequately address the carnage on our roads."