Written by Allison Cooper
Sophie Mahlangu, an iconic community elder, inspires others to take charge of their lives, no matter their circumstances. 
Master beadwork maker, painter and remarkable cultural entrepreneur and educator Sophie Msoziswa Mahlangu showed the youngsters a thing or two when she recently won the Beaded Category of the 2020 Innibos National Craft Awards.
Her prize of R20 000 – sponsored by the National Department of Arts and Culture – was richly deserved, agree the judges of the competition, who were thrilled at the skill shown in her entry – a colour beaded bicycle.
From a shop at her home, Mahlangu's co-op, Nomhlekhabo Craft Africa, produces and sells beadwork for local ceremonial use and for the visiting tourist trade. As a custodian of Nzunza Ndebele heritage, she is also a professional performing artist: she sings and dances traditional songs at major celebrations and cultural festivals with her performing group uNosinki Nabomma Bemvelo.
Mahlangu is also a key educator in the traditional Ndebele arts. She and long-time friends Dr Esther Mahlangu and Esther Mnguni teach painting and beadwork to teachers and learners through non-profit company Africa meets Africa's ongoing Ndebele Women designing Identity project. Africa meets Africa integrates traditional arts and history with mathematics learning in rural schools throughout South Africa, in partnership with district education departments.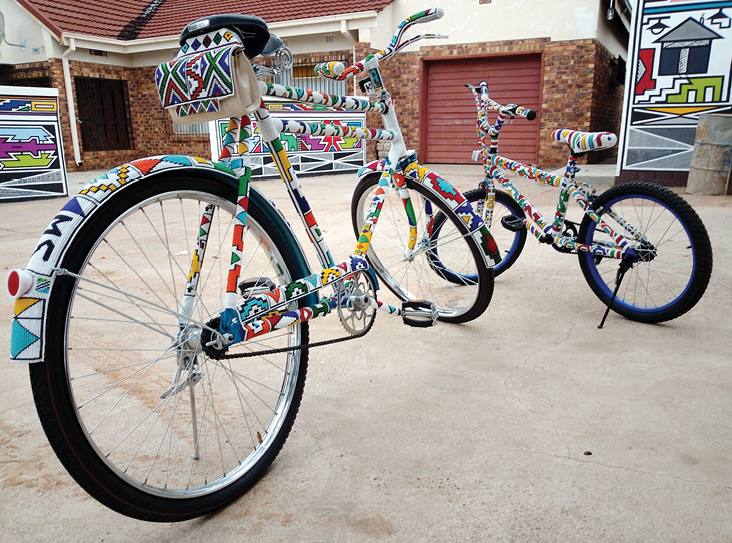 Sophie learnt her beadwork skills at her mother's knee. "My mother was a very good beadwork maker," relates Sophie, now the Ndebele master of the art herself. "As a child, I kept close to her, watching as she organised her needle and thread to start making a piece. I would play around with some loose beads right next to her, so that I could look deeply on the way she worked."
After gaining experience and confidence, Sophie started making adornments and traditional ceremonial attire on her own.
She believes that women have a natural strength and sense of survival that makes them able to quickly think on their feet. "A woman can make a plan to feed her family when the cupboard is almost bare, whereas most men are not able to think that quickly," she says.
Her Women's Month message is that women have a responsibility to teach children about their heritage. "Children may dream about getting a good education and then a good job but times are difficult and their dream might not come true. If they have been taught how to do handiwork and traditional crafts, they will have the means to put food on the table," she says.
Mahlangu has travelled to Spain and Italy with Dr Mahlangu, where they completed commissions for mural paintings. Sophie has also created mural paintings at local venues such as KwaMhlanga Police Station and at Kagiso Water Park.