President Cyril Ramaphosa has announced measures to save lives and manage the number of COVID-19 infections. The President said that the country will remain on lockdown Level 3 under tighter regulations.
The entire country remains at level 3 to contain the spread of coronavirus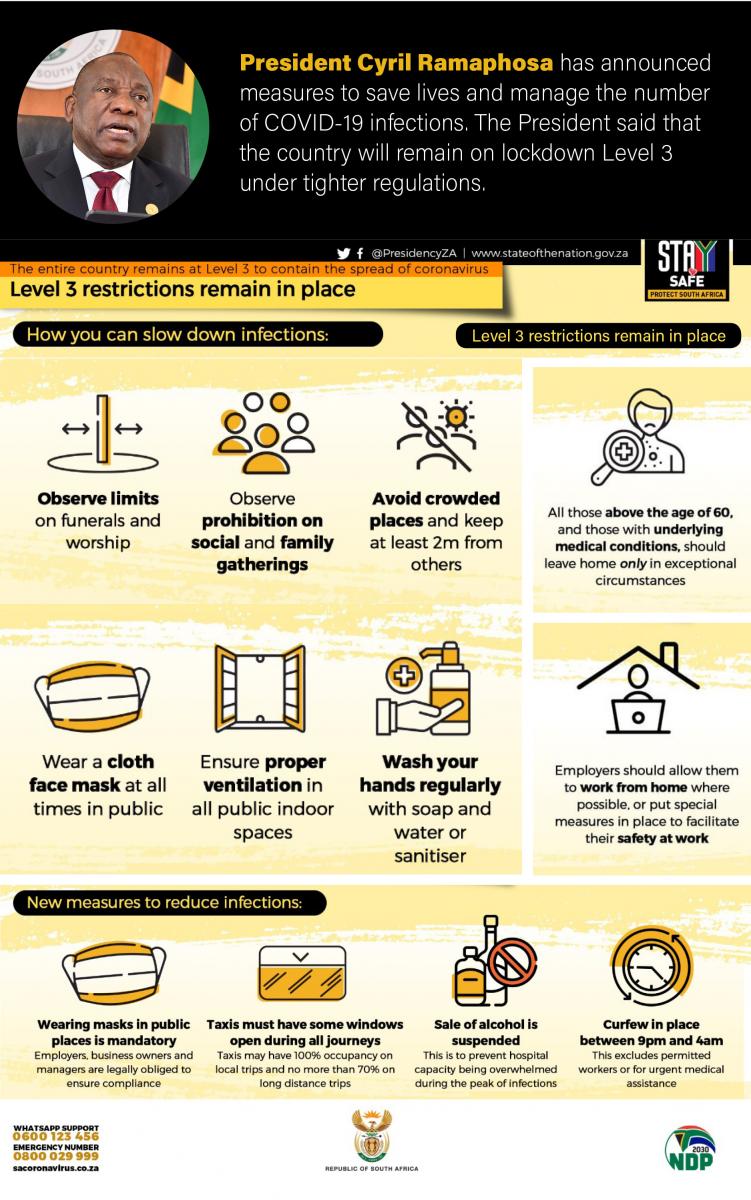 Level 3 restrictions remain in place:
How you can slow down infections
Observe limits on funerals and worship
Observe prohibition on social and family gatherings
Avoid crowded places and keep at least 2m from others
Wear a cloth face mask at all times in public
Ensure proper ventilation in all public indoor spaces
Wash your hands regularly with soap and water or sanitizer.
 
Level 3 restrictions remain in place
All those above the age of 60, and those with underlying medical conditions, should leave home only in exceptional circumstances
Employers should allow them to work from home where possible, or put special measures in place to facilitate their safety at work
New measures to reduce infections
Wearing a mask in public places is mandatory
Employers, business owners and managers are legally obliged to ensure compliance
Taxis must have some windows open during all journeys
Taxis may have 100% occupancy on local trips and no more than 70% on long distance trips
Sale of alcohol is suspended
This is to prevent hospital capacity being overwhelmed during the peak of infections
 
Curfew in place between 9pm and 4am
This excludes permitted workers or for urgent medical assistance.
Whatsup support: 0600 123 456
Emergency number: 0800 029 999
sacoronavirus.co.za