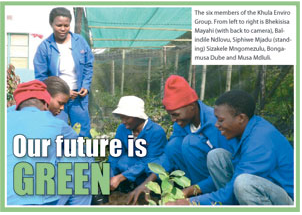 The six members of the Khula Enviro Group. From left to right is Bhekisisa Mayahi (with back to camera), Balindile Ndlovu, Siphiwe Mjadu (standing) Sizakele Mngomezulu, Bongamusa Dube and Musa Mdluli.
They knew that it would be up to them if they wanted to achieve something in life.
So, after finishing school, Siphiwe Mjadu, Sizakele Mngomezulu, Balindile Ndlovu, Bongumusa Dube and Sibusiso Bukhosini formed the Khula Enviro group in a small rural settlement around the Dukuduku Forest on the fringes of the Greater St Lucia Wetland in KwaZulu-Natal.
They had one thing in common — they were keen on the environment.
Before long, they were able to get some landscaping contracts.
"Completely on their own, they started an environmental group," says Charmaine Veldman, of the Wildlands Conservation Trust. The Trust is an independent organisation that gets communities involved with taking care of the environment. Veldman said,"They approached me and offered their services. We taught them about alien plants and the damage they do and they began removing aliens and replanting indigenous vegetation."
Veldman said this group is not only doing this to make money.
"They are really passionate about the environment. Everything they have achieved has been as a result of their own efforts," she says.
Veldman says young people interested in becoming involved with environmental projects should offer their ser-vices as volunteers until they have the enough experience to make money from their work.
Recently the group received a R100 000 sponsorship from car manufacturer Daimler-Chrysler.