South Africa will rely on the Johnson & Johnson (J&J) and Pfizer vaccines to protect citizens from the pandemic for now.
So far, government has secured 31.2 million J&J doses and 21.4 million Pfizer doses.
"Currently, the Pfizer and J&J vaccines have been registered by South Africa's Health Products Regulatory Authority (SAHPRA) and have been selected for procurement," said President Cyril Ramaphosa.
The first shipment of the Pfizer vaccine arrived in South Africa in early May.
However, the delivery of the J&J vaccines to South Africa was delayed in early May.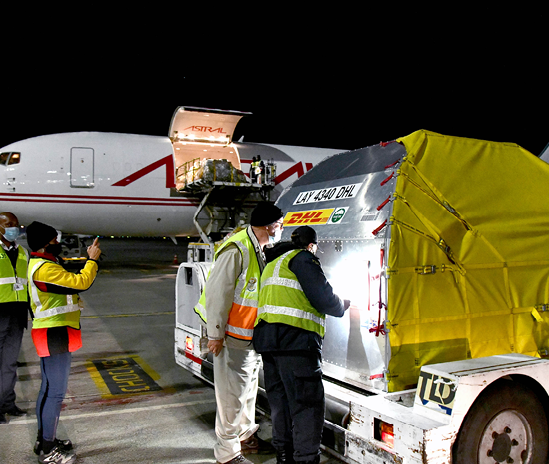 Responding to questions in Parliament, the President explained that the United States medicines regulatory body, the FDA, issued a directive to J&J after an inspection at one of J&J's manufacturing partner's facilities raised concerns.
The J&J vaccine is being used to vaccinate healthcare workers after it was found to be effective against the new variant of the virus in South Africa.
"The vaccination process was interrupted briefly when the FDA halted vaccination using the J&J vaccine in mid-April because of extremely rare, yet severe, blood clots experienced by some people who were vaccinated, resulting in the deaths of a few people," the President said.
SAHPRA then asked the Department of Health to halt the vaccination until a review of the available data was completed. This matter has been was resolved and the vaccination of health has workers resumed.
Government has finalised a contract for 31 million doses of the J&J vaccine and a contract with Pfizer for 20 million vaccine doses, with an additional allocation from the Covax facility of nearly 1.4 million doses.
The selection of vaccines for use in South Africa requires, among other things, that they be approved by SAHPRA as being effective against the dominant strains of the new variant in the country.
President Ramaphosa said South Africa wants to manufacture vaccines locally, against COVID-19 and future pandemics.
"It is for this reason that South Africa and India proposed the TRIPS Waiver at the World Trade Organisation to enable the manufacturing of COVID-19 vaccines in developing countries."
The proposal is now supported by more than 100 countries.
The President welcomed a statement by the United States that it will support the TRIPS waiver on intellectual property protection for COVID-19 vaccines.
"This is a victory for South Africa. It goes to show the influence we have as a country, working together with others; and that our voice and messages have weight because they are rational, progressive and meant to benefit people on our continent and in developing economies around the world," said President Ramaphosa.