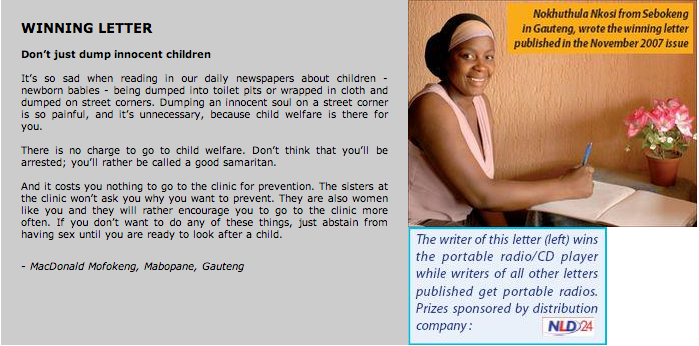 Use opportunities even if you are pregnant
I am a girl of 18 who completed matric last year. I was supposed to go to university after matric, but I didn't get the chance, because when I was writing my final exams I was pregnant. I thought it would be a good thing as a mother to stay at home and raise my baby, but then I realised I could get educated as well. I raised my baby while I was doing a computer course and attending HIV and AIDS counselling workshops. Now I am proud that I have computer and counselling certificates. 
I would like to urge other young girls not to stay at home doing nothing because there are so many opportunities out there.
- Rapuleng Sophy, Wepener, Free State
---
Confidence for success
Confidence is the single biggest reason why people succeed in life. A lack of confidence is the single biggest reason why people fail. Confidence is an undying and unquestionable belief in your abilities. But confidence does not mean that you don't feel fear; it means that you have the courage to face fear. It also means that you are prepared to act despite fear. 
Confidence also goes along with being positive. To reach your goals you don't need a rich family; you need to be motivated, hard-working, willing to take risks and have the ability to withstand suffering. 
- Jabu Maluleke Salani, Giyani, Limpopo
---
Let's fight littering
I'm very concerned about the many places in our country that are dirty because people put their rubbish in the streets and everywhere else. Don't just throw your plastic, paper and other litter away, put it in the dustbin. If we all stand together, we can make a difference and keep our country beautiful.
So please people, let us fight littering. Sometimes the impossible is possible. Other countries have done it, so can we.
- Sipho Khuzwayo, Estcourt, KwaZulu-Natal
---
Gansterism doesn't pay
I'm a jobless man with a family to feed. The reason why I'm jobless is that I wasted my time running with gangsters. But there was no future. I thought they were my friends, but they left me behind and carried on with their lives.
I want to say to all young people out there, don't wish to be a gangster because it doesn't pay. You are the one who pays with your future.
- Nelson Zondo, Harrismith, Free State
---
Don't criticise hawkers
People should stop criticising hawkers and making nasty comments about them. At least they have the guts to get up and do something for themselves. 
They are not committing crimes like stealing or killing for money and food. They are trying to make money honestly to support their families. They are not sitting back and waiting for things to fall into their laps.
I hate it when I see signs saying "No hawkers allowed." Let us bring back ubuntu, humanity, respect, harmony, peace and other good qualities towards other people.
- SM Khumalo, Emondlo, KwaZulu-Natal
---
Talking is healing
We live in a country with people who have different cultures, languages, and beliefs. We all have our own ways of dealing with problems, but I believe talking is the best medicine in the world. 
I know it's sometimes hard to talk about your problems with other people, especially those who won't understand, but instead of destroying your life with "deep dark secrets," talk about it. Talking is the way forward for a positive life.
- Asando Janbos Dimbaza, King Williams Town
---
Children must show respect
Children today have a say in everything. Every time they talk they say it's their right to do so. They don't have respect for anyone. They yell at their parents, sleep around, drink, smoke and use drugs. When their parents try to put some sense into their heads, they say their parents abuse them, and that's not fair.
- Motaung Tselane, Lindley, Free State
---
Rights go with responsibility
Young people do not understand what their rights are. Most of them just do things their way without respecting other people's rights. I want to say to them if you are misusing your rights, you will never get anywhere. Please remember that rights go with responsibility. Without taking responsibility you are altoghether lost.
- Isaac Chanchane, Braamfisherville, Gauteng