A mother's excitement over the arrival of her newborn baby girl in 2018 inspired her to transform old clothes into matching outfits for herself and her daughter.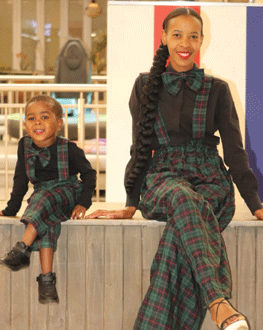 That marked the beginning of Dineo Cheonyane's thriving venture, Reitu Hand Crafts.
Cheonyane (32) credits her daughter for the motivation to start her business, which derives its name from that of her daughter, Reitumetse. 
Reitu Hand Crafts is a Pretoria-based fashion design business that offers a range of customised and unique outfits for women and children. The business currently employs two casual workers.
The fashion design idea started with a headband she made for Reitumetse when she was just two weeks old.
"The excitement of having a baby girl immediately turned me into a fashion designer. I started with a headband, although it was not perfect, I kept on adding pieces to it day by day and kept on improving and I went on to design matching outfits for us," she said.
The mother and daughter outfits turned heads and people started asking her to design for them as well.
"I started with what I had, some old fabric at my house. I sold the first items and from that, I was able to buy new fabric and some of the material that I needed."
Cheonyane has a unique taste when it comes to fabric selection.
"I love tulle fabric, it is the only fabric that matters to me. Therefore, I design many different clothes including maternity wear, children's birthday attires, mother and daughter matching outfits, tutu dresses and skirts and adult tulle dresses," she adds.
Cheonyane sells her outfits through social media platforms where customers can request unique designs for special events such as birthdays, photoshoots and other occasions.
Her future aspirations include expanding her business by establishing a fashion design school for young girls and a modelling agency.
Reitu Hand Crafts clothing can be found on Instagram @reitu_hand_crafts and Facebook @Reitu Hand Crafts