Over 14 000 learners are set to benefit from virtual classrooms, that include robotics and coding elements, due to a public-private partnership between the Vodacom Foundation and the Department of Basic Education (DBE).
According to Takalani Netshitenzhe, the Director of External Affairs at Vodacom South Africa, its Virtual Classroom Solution (VCS) was approved by the Independent Communications Authority of South Africa at the height of COVID-19, to enable remote access to teaching and learning in poor communities.
Vodacom aims to roll out 13 virtual classrooms, which will benefit about 14 000 learners.
The VCS was recently launched at Dr WF Nkomo Secondary School in Atteridgeville, Tshwane, to benefit its 1 500 learners.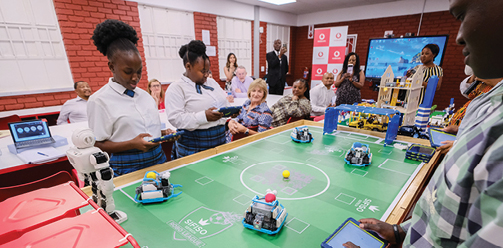 Netshitenzhe says the virtual classroom will help prepare learners for the Fourth Industrial Revolution as it has a fully kitted e-learning end-to-end solution, with internet connectivity across the school.
"The network enables the school to connect to educational broadcasting centres and other schools, to share resources and expertise remotely," he adds.
Khazamula Chauke, the principal of Dr WF Nkomo Secondary School, says the VCS ensure that the school's educators and learners are more productive.
"Teachers can now interact with learners, without being physically in the same room… Along with internet connectivity throughout the school and access to e-learning, learners now have their own data-enabled laptops, so they don't have to rely on what is in the information technology (IT) centre," he adds.
Netshitenzhe says the laptops also enable learners to access curricula-aligned content and various platforms, such as Microsoft Office 365 Education, 2Enable and Vodacom e-School.
"The children are really excited. They're also enjoying other benefits of the programme, such as being able to access extra resources by remotely connecting to educational broadcasting centres and other schools. I have no doubt that we will see greater improvement in their learning, productivity and how they perform academically," says Chauke.
Following the implementation of the programme, Chauke says many learners are now also showing an interest in technology.
"In schools such as ours, subjects like IT haven't been fully rolled out. This is definitely creating interest in that space, as now learners are more empowered to navigate a digital world. The coding and robotics elements have particularly grabbed their attention, and I'm excited to see where these digital skills will take them," he adds.
For more information visit https://www.vodacom.com/vodacom-foundation.php