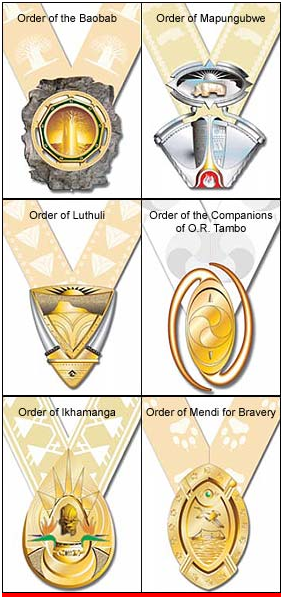 On 24 April, National Orders were awarded to outstanding South Africans. They were honoured for special achievements or service to the country and its people.
South Africa's National Orders:
Order of the Baobab:
Named after the majestic baobab tree, this order is given to people for outstanding service to the country. It is awarded in three classes - gold, silver and bronze.
Order of Mapungubwe:
Named after the Kingdom of Mapungubwe, which was located in the northern part of South Africa about 1 000 years ago. The area where gold from this kingdom was found, is now part of the Mapungubwe National Park in Limpopo. The order is given to South Africans in platinum, gold or bronze for outstanding achievements.
Order of the Companions of O.R. Tambo:
Named in honour of the former ANC leader Oliver Tambo. He played a very important role in the struggle against apartheid. The order is awarded in gold, silver and bronze to people from other countries for special friendship and support to South Africa.
Order of Luthuli:
Named in honour of Chief Albert Luthuli. In 1961, this well-known leader in the struggle for liberation was the first African to recieve the Nobel Peace Prize. The Order is awarded to South Africans for a special contribution to the struggle for democracy, human rights, nation-building, justice and peace.
Order of Ikhamanga:
Named
after the ikhamanga plant, also known as strelitzia, which is a symbol of beauty because of its unusual flowers. The order is given to South Africans for great achievements in arts, culture, literature, music, journalism and sport.
Order of Mendi for Bravery:
Named after a ship, the SS Mendi, in honour of the brave South Africans who died when it sank in 1917 during World War I. Awarded to South Africans for brave acts where their lives were in great danger, or who lost their lives in brave acts in or outside South Africa.
Some recipients in 2007
Order of the Baobab:
Ephraim Sibiya (1949 -)
Richard Maponya (1926-)
Eric Molobi (1945-2006)
Joyce Piliso-Seroke (1933-)
Order of Luthuli:
Mfanasekaya Pearce Linda Gqobose (1917-)
Florence Mophosho (1921-1985)
Gagathura Mohambry "Monty" Naicker (1910- 1978 )
Gert Shadrack Sibande (1901-1987)
Order of the Companions of O.R. Tambo:
Salman El-Herfi (1944-)
Mandlenkosi Aloysius Isaac Zwane (1932-1980)
Al' Ami' Mazrui (1933-)
Joseph Leabua Jonathan (1914-1987)