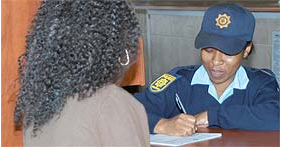 All South Africans have a responsibility to help government fight crime. One way to do this is to report crime to the police.
Rape is a very serious crime and should be reported immediately. A number of rape cases are not investigated properly because victims fail to report it or do not give all the necessary information to the police.
Evidence
Senior Superintendent Hantie Gouws of the South African Police Service's Forensic Science Laboratory, says it is very important that a person who was raped should not wash, take a bath or shower after the incident.
Washing can remove important evidence like the bodily fluids found on the victim's body or clothing. Such evidence is critical in linking the rapist to the crime.
When a rape is reported, the victim is taken to the doctor. The doctor gets the bodily fluids left behind during the rape to be examined. DNA tests are then done. This is a scientific way of finding out id the bodily fluids belong to the person who is accused of the rape. It makes it much easier for the court to find the rapist guilty.
Responsibilities
Gouws says the responsibilities of the victim who reported a rape does not end with laying a charge. It is also very important for a complainant to keep in touch with the police during the investigation.
If a complainant moves to another area it another area it is important to give the investigating officer the new address.
It is the duty of the investigating officer to inform the rape victim about progress in the case.
- Muzi Mkhwanazi
Important advice around rape
    Report the rape to the police immediately. If you are too shocked or afraid you can take a friend or family member with you to the police station to make a statement, as long as he or she is not a witness in your case.
    Don't wash or take a shower or a bath after the rape incident because it will wash away important evidence.
    You can make a statement in your own language. If you feel your statement is incorrect or incomplete, you can make another statement.
    You have the right to copy your statement.
    Remember to ask for a case number. You must use this number as a reference to help you follow up on how your case is progressing.
    Ask the police or a doctor to refer you to a counsellor
    who can help you deal with the emotional
    suffering of being raped.
If you have been raped, you can call the South African Police emergency number: 10111, or the Stop Gender Violence helpline: 0800150150