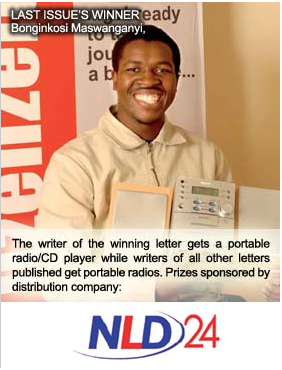 WINNING LETTER
Use water wisely
It really upsets me to see people misusing the little water we have. By now everyone should know that there is a shortage of water in our beloved country. Yet there are those who still waste water. Shame on you!
I would like to remind them that not only they, but everyone else, will suffer the consequences.
We cannot do without water - the basic need for life. People in rural areas travel long distances to get water, yet those who have running water misuse it.
I want to urge everyone who gets running water from their taps to please use it properly and wisely.
- Sibusiso  Mathebula, Hoopstad, Free State
Seat belts do save lives
Some of my fellow South Africans don't understand that they are not doing a police or traffic officer a favour when they put on their car seat belts. I often see people without seat belts, but as soon as they see a police or traffic officer they quickly put it on. It takes seconds to put it on and can save your life, so put it on at all times. If not for yourself, then for your loved ones.
- Solly Makola, Jane Furse, Limpopo
Create jobs for yourselves
There are many depressed people out there who cannot find jobs. Some are even thinking of committing suicide. But things need not be that way. In this cruel, but wonderful world, we need to be like ants. We must go above the hill and around it in a bid to accomplish our goals in life. Just keep on trying. And remember, not all of us can be employed by government or companies. Some of us need to create jobs for ourselves like starting small businesses.
- Clan Ntimani, Giyani
Their letters changed my mindset
I read Rebecca Tsokolibane's letter about albinism titled They are like everyone else with excitement in my heart. I never thought a 17-year old girl could write such a powerful and life-changing letter. I also congratulate Khetiwe Mbuyazi for taking time to write the letter Albinism - a condition not a curse in which she talked about her painful experience. Their letters changed my mindset towards people with albinism. More people should write and share their knowledge about the things others are ignorant about.
- Sifiso Kumalo, Tembisa, Gauteng
Be truly free
Be truly free We've said that we are free and living in a democratic country, but it does not look like we are. It seems as if we have forgotten why we were fighting against apartheid. Heroes died and Nelson Mandela spent 27 years in jail to make us free - not to rob, rape or corrupt others. To be truly free, we have to fight against crime as we did when we were fighting for freedom.
- Gloria Ntekama, Botshabelo, Free State
Education is the key
What kind of weapon do I need to accomplish my ambition? What kind of instrument should I obtain to solve my problems easily and quickly? What technique do I require to get what I want in life? What type of key must I use to open gates in life ? The answer is education! No matter how much money you have, you are nothing without education. Education is the source of knowledge and understanding, which in turn provides one with tools to earn an honest living.
- Thoko Mabusa, Mtubatuba, KwaZulu-Natal
Make more time for your children
Our kids need support and love. But we as parents very often don't make enough time to spend with them and to teach them the values of life. We are too busy making money and trying to look attractive. Because today's parents act like children, they cannot control their children. We must become responsible adults because our children are the future adults who will rule our country.
- Mpho Mofokeng, Sebokeng, Gauteng
Let's stop hurting others
I am a girl of 12 years old and I know the difference between love, violence and abuse. As government has started 16 Days of Activism to act against women and child abuse, why don't we realise that living with violence is not a good life to be lived by human beings? Let's stop hurting people's feelings and violating them physically.
- Thabang Mogale, Ga-Mathabatha, Limpopo
Don't sell yourselves short
Being unemployed, a lack of money and having debt can lead young women to look for men to sustain their material needs. Such relationships can be short-lived and can lead to even more problems like unwanted pregnancies and getting infected with sexually transmitted diseases. Please let us not sell ourselves short by getting into relationships for financial resons. Finding our own solutions to our money problems will make us proud of our own achievements and teach us valuable lessons.
- Lina Morabe, Heilbron, Free State
Helpful to everyone
I was really not sure what to say when going for a job interview, but now I know, thanks to Vuk'uzenzele. Vuk'uzenzele is really very helpful and I say thank you on behalf of everyone else like me who reads the magazine and learns from it.
- Lelethu Mgqabuzani, Cape Town
Source of information
I recently wrote matric and my biggest worry was where to go after matric? I didn't have a clue about tertiary education. Today, I'm happy to say that I am studying at a tertiary institution and doing very well. I got the information about the course I'm doing from Vuk'uzenzele. Thank you, Vuk'uzenzele - without you guys there's a lack of information in the country.
- Elias Majorobela, Marquard, Free State

Write to: Vuk'uzenzele, Private Bag X745, Pretoria, 0001,
or e-mail: vukuzenzele@gcis.gov.za.
If you don't want to have your real name published, you may use a different name,
but please include your real name and address to us.