BUILDING INDUSTRY: WOMEN STEP IN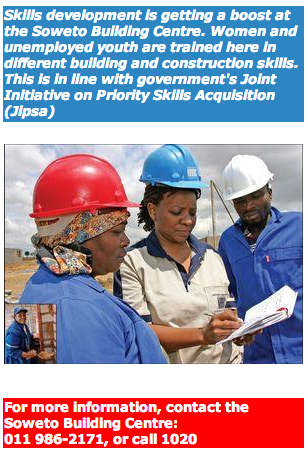 The Soweto Building Centre, supported by the Department of Labour, was started in 1991 to help people whose schooling was badly affected by the violence of the 1990s. 
Today, the centre is helping to reduce the skills shortage in the building industry thanks to ongoing support from the department.
Women
Half of the students at the centre are women. Centre Manager, Simon Max Mohale, said a lot of women are showing interest and doing well in the field of building and construction. He said in the past, building construction was seen as a man's job. But thanks to more training opportunities for women, more and more women are joining the building business.
The centre is also training 50 members from ten co-operatives that are sponsored by the Department of Labour.
Grants
Students at the centre get training in skills like bricklaying, carpentry, tiling, painting and plumbing for a maximum period of 60 days. 
The Department of Labour pays the grants per student directly to the centre. The amounts differ from about R7 000 to R11 400 depending on the student's trade. For example, plumbing students get more money than bricklaying students, because plumbing is a more expensive course.
Practical
A major part of the training is practical, but students also attend lessons in the classroom. Mohale said the centre gets advice from construction companies on what kind of specific training is needed in the building industry. This ensures that students who complete the courses are ready to start working as productive members of a building team. 
On completion of the course, students get certificates that are recognised by the Construction Education and Training Authority (CETA).
Doing well
Mohale is very happy that many of their students are doing well in the building industry. "Everywhere I go, especially around Soweto where construction is taking place, I see students who received training from us. I don't remember all of them, but they greet me on the sites," he said. After completing the course, some of the students decide to get further training to become training officers.
Mohale believes that former students are making a major contribution to reduce the problem with housing backlogs in the province.
- Muzi Mkhwanazi
---
Keep the freezer compartment of your fridge closed to prevent cold air from escaping