SAY NO TO MOB JUSTICE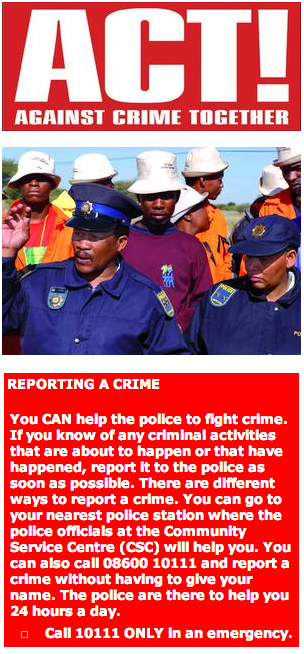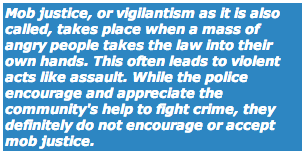 You may have seen it on television, read about it, heard it on radio or even seen it in your own community. A crowd of very angry people would beat up a person who is suspected of committing a crime. The crowd would use anything from their bare hands to shamboks, sticks, and even stones. 'We want to teach him a lesson', they would say.
Vigilantism
Mob justice is also called "vigilantism." It means taking the law into one's own hands. A person is a vigilante if he or she is a member of a group trying to enforce the law without the right to do so. 
South Africa is a democratic country where everybody's rights are guaranteed in the Constitution. This country also has law enforcement agencies to perform these functions. 
Acts of mob violence could lead to the mob committing other crimes like assault, public violence, intimidation and even murder. Committing these crimes could lead to imprisonment and/or a fine. No matter how angry you are, you must not take the law into your own hands. Let the police and the courts of law deal with the suspect.
Other choices
There are other ways of joining the fight against crime. One of them is to join the Community Police Forums (CPF). The CPFs is an opportunity for communities to work in partnership with the South African Police Service (SAPS). The partnership leads to better communication. While working together with the police, it becomes easier to see where the problems are and find solutions. 
You can also become a police reservist. A police reservist is a member of the community who volunteers his or her service to help with policing functions for the SAPS. They do not get paid for their services but they have similar powers as permanent police officials. Phansi nge vigilantism Phansi! (Stop vigilantism, stop it!)
- Capt Tshifhiwa Tshikhudo, SAP