OPENING YOUR HEART AND HOME TO A FOSTER CHILD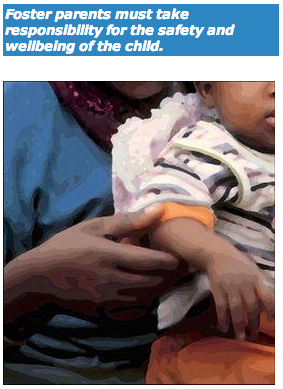 The Soweto bombings that shocked the country in 2002 left two children without parents. Mary and Joseph Mokoena had no one to look after them. Their mother's relatives were living in Lesotho and their stepfather left them immediately after their mother's death. 
They were orphans without a family or a home. Thanks to a kind woman in Dube, Soweto, who opened her heart and home to them, they now have a foster parent who cares for them.
Grant
Foster care is a government service that helps children who do not have shelter or who cannot stay with their parents because of death, abuse or any other reason. Such children are put in the care of suitable people who are not the parents or guardians of the children. To help foster parents cope with the extra financial strain of raising children, government has a foster-care grant.
Children's court
The children's court, guided by the Child Care Act, identifies children who are in need of foster care. The court considers children who have been neglected and abandoned, or have been sexually or emotionally abused by their parents or guardian. They also look at children who are orphans or have parents or guardians who cannot be traced, children who cannot be controlled by their parents or guardians, or children who live on the streets.
Responsible
A person who wants to be a foster parent must be able to take responsibility for the safety and wellbeing of the child. They must be over 18 years old and must be willing to be assessed by a social worker to see whether they are 
suitable.
- Muzi Mkhwanazi