GIVING MEANING TO MANY LIVES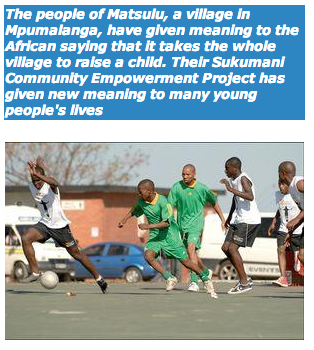 When the community of Matsulu saw that the youth in the area were getting involved in bad things like alcohol, teenage pregnancies, unprotected sex and crime, they decided to do something.
Meaningful projects
Matsulu is a small village in the mountains between Nelspruit and Malelane. It has a population of about 55 000 people. There are no big industries in the area and most of the people are farm workers. The lack of meaningful activities for the youth resulted in some of them doing bad things. 
The Sukumani Community Empowerment Project was born when the community took the responsibility to create meaningful activities for the youth. The project is run by volunteers from one of the primary schools in the area. 
They have started different projects to address the challenges that the youth in the area are facing. It has helped to bring a sense of pride and meaning to the lives of many young people.
Most of the youth who did crime, had passed their matric and had nothing to keep them busy. So, the organisation asked a number of tertiary institutions like colleges and universities to come to the area and give advice about careers.
Careers
Now, a number of institutions visit the area every year and help matriculants to choose careers. The project is already helping ten of the learners to get bursaries for further studies. 
They are also working with schools in the area to help with teacher training and development in science and maths. They have organised workshops run by experts in the fields of science. 
The teacher development plan is part of government's Joint Initiative for Priority Skills Acquisition programme (Jipsa).
Workshops
The teacher development workshops are very popular events and there is a great need for them. The project also organises sporting, drama and camping activities for the youth in the area. 
The whole community gets involved in the activities. A lot of people come to support their children and everyone in the area looks forward to the events. On such days some people also get the opportunity to make money by selling their goods.
Proud
The project is planning to build a park with netball, volleyball and soccer grounds. So, instead of the youth drinking, they will be helping to clear the ground and building a park to make the whole community proud.
- Muzi Mkhwanazi
---
Turn off your computer when you are not using it