Community-based care centres are bringing essential social and health services to rural villages.
Poor families in a KwaZulu-Natal village will benefit from better nutrition, thanks to a donation by German state-owned KfW Development Bank, which was facilitated by the Department of Social Development (DSD).
The beneficiary is the Sinothandolwethu Care Centre, which is in the village of Bethany near Bergville. The centre looks after orphans, children from poor households and frail elderly people in the village. According to the chairperson of the care centre, Dombi Ngwenya, they will all benefit from healthier food.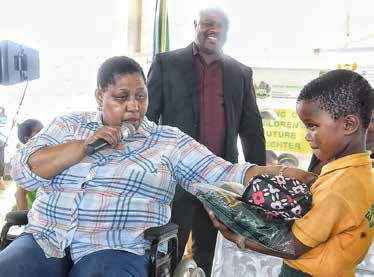 Ngwenya says one of their main concerns is ensuring that young children who have to take medication, such as antiretroviral drugs, are properly fed. "In addition, we cook lunch for the elderly, who collect their meal from the centre."
Sinothandolwethu will receive an additional R400 000 from the DSD, which will in part be used to pay the centre's full-time social worker and nurse, as well as the care workers who visit elderly people who live alone and have chronic illnesses. The care workers' daily visits to the elderly ensure that people eat and take their medication as prescribed. A portion of the money will be spent on food and other necessities.
KfW is impacting lives across South Africa. It donated 9.9 million euros for the construction of 17 care centres in KwaZulu-Natal, Limpopo and North West. The rural-based care centres will offer services from the departments of social development, home affairs and health, as well as the South African Social Security Agency and the National Development Agency, among others.
The care centres will also help support already existing child protection services, such as home community-based care and drop-in centres.  
Deputy Minister of the DSD Hendrietta Bogopane-Zulu says: "The goal of building community care centres in rural communities is to enhance the quality of services to orphans and vulnerable children within their own communities of origin and to complement existing child protection interventions and services.
"This approach seeks to strengthen families and communities as the first line of response as guided by South Africa's National Strategic Plan for HIV, TB and sexually transmitted infections 2017-2022."