Written by: More Matshediso
The novel coronavirus (COVID-19) outbreak has claimed thousands of lives and turned the world upside down.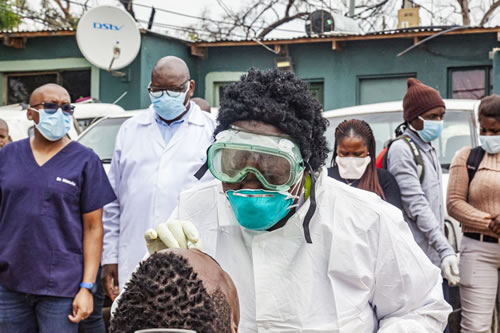 South Africa has not been spared, with its infection rate growing. 
Government initially imposed restrictions to enforce social distancing but as the infections spread, a national lockdown was announced by President Cyril Ramaphosa and came into effect on 26 March. 
He highlighted that never before in the history of South Africa's democracy has the country been confronted with such a severe situation.
The President said the nationwide lockdown was a necessary move to contain the spread of COVID-19 and 'flatten the curve' in South Africa. 
As a result, people are expected to stay home and only venture out if they absolutely have to, which means jogging and dog walking are not allowed during the 21-day lockdown. People must also buy their essentials from their closest retailer or spaza shop and should plan their trips to ensure they get home as quickly as possible and don't have to go out again too soon.
"This is a decisive measure to save millions of South Africans from infection and save the lives of hundreds of thousands of people. While this measure will have a considerable impact on people's livelihoods, on the life of our society and on our economy, the human cost of delaying this action would be far, far greater," said the President.
The nationwide lockdown is being accompanied by a public health management programme which will significantly increase screening, testing, contact tracing and medical management.
Screening, testing and tracing programme
President Ramaphosa recently made another announcement that government will be rolling out a screening, testing and tracing and medical management programme on a huge scale.
"Around 10 000 field workers will be visiting homes in villages, towns and cities to screen residents for COVID-19 symptoms. People with symptoms will be referred to local clinics or mobile clinics for testing.
"People who are infected with coronavirus, but who have no or moderate symptoms will remain in isolation at home or at a facility provided by government and those with severe symptoms will be transferred to hospitals," he added.
Using a mobile technology, an extensive tracing system will be rapidly deployed to trace those who have been in contact with confirmed coronavirus cases and to monitor the geographical location of new cases in real time.
It's simple - stay at home!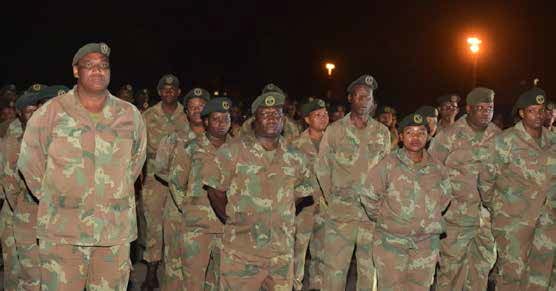 Police Minister Bheki Cele firmly told South Africans to stay at home and avoid being on the streets unnecessarily. He said they should only leave their homes to provide or seek essential services, which are listed in the COVID-19 Disaster Management Regulations. 
People who don't obey the conditions of the lockdown could find themselves on the wrong side of the law, he warned.
The exempted conditions in which non-essential workers are allowed to leave their homes include seeking medical care, buying food, medicine and other supplies or collecting social grants.
The regulations were released by Co-operative Governance and Traditional Affairs Minister Nkosazana Dlamini-Zuma, who explained that the Disaster Management Act prohibits people from moving alcohol from one place to another. "What you have at home, you consume there at home, not next door," the minister explained.
Areas closed to the public include religious, cultural, sporting, entertainment, educational, organisational and similar premises. This includes cinemas, parks, beaches, swimming pools, nightclubs, shops that don't sell essential goods – such as clothing stores, casinos, markets and food stalls. 
Game reserves, lodges and guesthouses also have to keep their doors closed, except those who already had international tourists booked in when the shutdown was announced. In these cases, the guests are to be kept at their lodgings under the conditions of the national lockdown.
Minister Cele warned that on-consumption premises at which alcohol is sold – including shebeens, shisanyamas and taverns – may not operate. In fact, in the hours after the lockdown was implemented, people who ignored the restrictions and were out drinking were arrested.
Should the lockdown laws be broken, perpetrators face six months in jail or fines, or both. To ensure that the lockdown is effectively implemented, the South African National Defence Force (SANDF) was deployed to support the South African Police Service.
Defence Minister Nosiviwe Mapisa-Nqakula said the lockdown is not meant to punish citizens but rather to contain and minimise the spread of the virus.
The military is assisting in roadblocks and foot patrols to enforce lockdown curfews. They are also involved in border control activities and are supporting health authorities. 
Temporary shelters that meet the necessary hygiene standards have been created for homeless people.   
Did you know?
Community Health Care Workers will be going to different communities across the country to conduct door-to-door screening. 
The deployment will follow a phased and targeted approach and high-density areas such as Alexandra, Diepsloot and Khayelitsha will be visited in the first wave.
Community Health Care Workers will be provided with uniforms and identifiable tags which will make it easier for you to identify them. 
Screening in other areas will be rolled out following the same phased and targeted approach.
Screening is essential in this fight
President Cyril Ramaphosa has informed South Africans that government will be rolling out a screening, testing and tracing and medical management programme which will see field workers visiting your communities to screen people for Coronavirus symptoms. This is why screening is important;
Screening is a way for health workers to find out if you may have COVID-19 or not. The health worker will ask you questions and scan your forehead to take your temperature.
The health worker will ask if you: 
Have travelled to a high-risk country in the last 14 days.
Have had contact with anyone with confirmed COVID-19 in the last 14 days. 
Have symptoms such as fever, cough and difficulty in breathing.
If you have travelled to a high-risk country or have had contact with someone with COVID-19 you must self-quarantine.
This means that you should stay at home for 14 days and monitor yourself for symptoms such as a dry cough, fever and difficulty breathing. Stay away from older people and people with a compromised immune system or underlying condition such as high blood pressure or diabetes.
Community Health Care Workers will refer persons suspected of having Coronavirus to the nearest community health centre, clinic or hospital. 
Tests will only be conducted at health care facilities and mobile testing sites.  
Not everyone will be tested, health workers will use a formula by looking at how serious your symptoms are and what high risk factors you have.
Testing includes collecting a biological sample from a patient such as a nasal swab or a blood sample, which is then tested by a laboratory for the virus or its antibodies.