Written by More Matshediso
Local entrepreneurs call on South Africans to be serious about the development of the country and buy locally manufactured products.
Thabo Kele, is the co-founder of R.A. Vuthela Creations, a company that manufactures handmade ceramic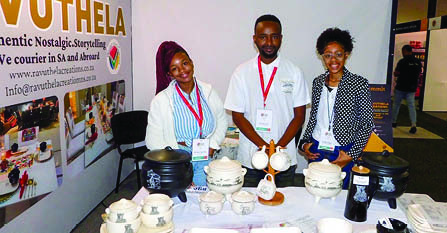 tableware and bakeware in Edenvale in Gauteng,
Kele encouraged citizens to support local businesses because many quality products were manufactured in South Africa
He spoke to Vuk'uzenzele at the recent 2023 Buy Local Summit and Expo. The event was hosted by Proudly South African(Proudly SA).
  "Most of the products that are produced locally are developed with care, consideration and sensitivity to the needs and interests of our citizens. Buying locally manufactured products is also important for nation-building and stimulating economic growth. It's all about national pride and patriotism," he says.
R.A. Vuthela was established in 2020 during the COVID-19 pandemic national lockdown by Kele and his business partners, Mbalenhle Magcai, Mpho Itumeleng and Clement Magcai.
"Our art is nostalgic and may remind you about our common upbringing, certain places and spaces."
The company also offers its clients an opportunity to customise their dinner sets by having their family names or artwork which represents who they are on the products.
"This offers our clients a unique set that they cannot buy at the shops. It's very authentic and personal self-expression through ceramic art. This is because we want to provide a unique dining experience to our customers. We also sell drawings and paintings," Kele says.
The company became a member of Proudly SA in 2021 which has provided the business with remarkable exposure and helps with connecting R.A. Vuthela Creations to different markets through opportunities like exhibitions.
"Being a member of Proudly SA has also helped us build trust within the community, as audiences can see that we offer quality products," he says.
For more information about the company, visit www.ravuthelacreations.co.za or email info@ravuthelacreations.co.za or call 081 896 5038.
The company is also available on the following social media platforms:
Instagram: @ra.vuthela
Twitter: @RAVuthela
Facebook: R.A. Vuthela Creations.
Companies that are interested in registering for membership with Proudly SA may visit the website www.proudlysa.co.za