Driven by a passion for food security and sustainability, two young engineers have developed an innovative hydroponics solution for small-scale and commercial farmers.
Hydroponic farming is a method that entails growing plants using mineral nutrient solutions in water without soil.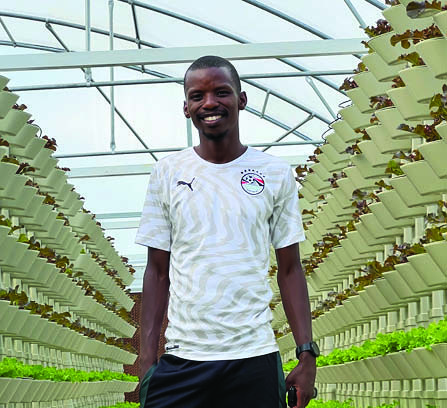 Mogale Maleka (30) and Tumelo Pule (30) of Agang Bokamoso Farms (AB Farms) saw their hard work bear fruit when they clinched the runners-up spot in the February 2023 Innovation Hub's Gauteng Accelerator Programme (GAP) awards.
The mechanical engineers have designed a pipe system that allows plants to have access to water even when the irrigation system was off due to power shortage or pump failure.
"[It does this] using up to 10 times less land, with about 90% less water and electricity," explained Maleka in an interview with Vuk'uzenzele.
The system allows users to farm a selection of leafy greens such as lettuce, spinaches, kale, and a range of herbs and crops.
"The system is unique,  current systems in existence require water to be flowing through them consistently. In South Africa that is not currently possible because we have load shedding. You can't keep the system running around the clock," he explains.
The two mechanical engineering graduates started working on their innovation in 2018. The project means that through technology, farming could be pursued in areas that do not have arable soil.
Impressed with the pair's work, the Water Research Commission (WRC) in 2020 stepped in and provided funding for the manufacturing and piloting of the product.
The funding was a collaborative initiative of the WRC and the Technology Innovation Agency (TIA) through their Water Seed Fund.
 "We manufactured the first tranche of commercial pipes and we tested them at our plant in Westonaria, which was also funded by the WRC. We also ran trials – we planting lettuce over and again," Maleka says.
AB Farms wanted to make sure that their product was working successfully.
Due to COVID-19 restrictions, the process took two years to finalise. In 2022, AB Farms was back on track and secured its first customers.
Building a customer base
The system can be used domestically at a small scale as well as commercially at a much larger scale.
"Anyone can use this, whether you are farming in your garden or on your balcony. We have systems in Johannesburg, KwaZulu-Natal and Cape Town," he says.
The company is currently installing a 6000 facility unit in Giyani, Limpopo. When the company completes this project, it will head to Botswana where it will be fitting a household system.
AB Farms does not currently have full-time staff, contractors were roped in to complement the size of projects.
According to the entrepreneurs, the funding and wins that the business have received over the years were vital for the growth of the business.
AB Farms were runners-up in the Innovation Hub's GAP awards in the Green Innovation category.
Together with other winners and runners-up they received a share of the R3 million in seed funding as well as mentorship in a three-year incubation programme at The Innovation Hub business incubators.
The Innovation Hub runs the competition with the aim of attracting researchers, innovators and entrepreneurs that would improve the efficiency of service delivery and increase the competitiveness of the local economy.