Imaphumulo FM, an online radio station based in KwaMaphumulo on KwaZulu-Natal's north coast, is on course to empower and entertain its listeners.
The platform, which was recently launched, was founded by station manager Scelo Ngema.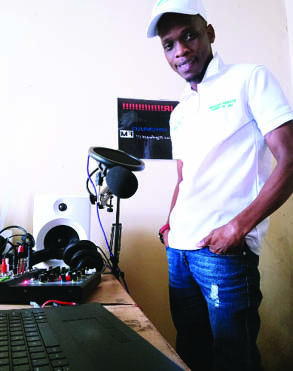 "A lot of people go to urban areas to learn about broadcasting because such information is not available in the rural areas. I had this vision of starting a radio station in KwaMaphumulo, a rural area. Even though we don't yet have a frequency, we decided to first set up an online station," he explained to Vuk'uzenzele.
An experienced community radio presenter in his own right, Ngema says beyond informing and entertaining locals, he has a vision of training aspiring broadcasters through this initiative.
 "I have trained a few radio presenters, some of whom have gone on to bigger things."
Ngema began his radio career in 2017 and has had stints with community radio stations in KwaZulu-Natal. These include Highway Radio, Imbokodo FM, Itheku FM and The Voice FM, an online platform.
The station's journey began in a backroom due to a lack of resources.
"This made things very difficult. I have been trying to find alternative accommodation so that I can adequately accommodate both the broadcasting and training facilities. I rented a cottage in the area."  
Despite his passion for radio, Ngema splits his time on the project while still working full-time as a waiter.
With no external funding, the online platform self-funds the station through advertising.
Imaphumulo FM broadcasts live between 6am and 6pm. The station is complemented by 20 volunteers, among them being presenters and show producers.
Sport, Arts and Culture Minister Zizi Kodwa, who attended the launch of the station, welcomed the milestone.
 "The timing of the launch could not be better, as it takes place at a time when the country is crying for more communication platforms to promote social cohesion, nation building, moral and ethical upliftment with a primary focus on the youth," Minister Kodwa says.
He expressed confidence that platforms such as Imaphumulo FM online radio would play a significant role in spreading positive messages amongst communities.
"This platform will also be a useful tool to promote a positive lifestyle and spread ethical conduct amongst communities," says Minister Kodwa.
To tune into Imaphumulo FM visit imaphumulofm.radiostream321.com