Written by Edwin Tshivhidzo
Motorists will no longer have to wait in long queues to renew their driver's licences, thanks to the new Road Traffic Management Corporation (RTMC) driver's license renewal system which saves them time.
"This system dramatically cuts the time it takes to apply for a new driver's licence or temporary driver's licence. It also reduces the application process to less than 10 minutes. We are now also able to verify the identity of the applicant with Home Affairs which helps eliminate identity fraud," said RTMC General Law Enforcement Manager Sydney Mogaecho.
He explained that the new system has been rolled out to Driver's Licence Testing Centres in Gauteng, including the Eco Park in Centurion and the Waterfall Office Park in Midrand.
Since October 2021 when the new system was launched, about 176 000 licenses have been processed.
There are plans underway to rollout the system to other parts of Gauteng and there-after to KwaZulu-Natal, Free State, Western Cape, Northern Cape, Limpopo and Mpumalanga. The process will eventually be rolled out across the country.
He explained that the system was introduced to improve services in driver's licence centres.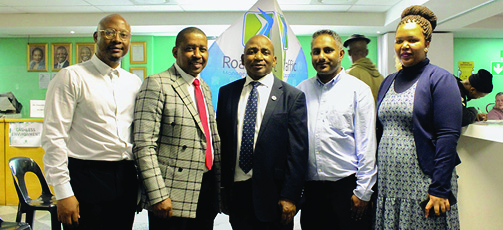 "Licence centres are notorious for long queues and uncaring staff attitudes and the new system is intended to do away with that and introduced efficiency and friendly service," he said.
Renewing your driver's licence
Mogaecho added that in order to renew your driver's license the first step is to make an appointment with the National Traffic Information System's (NaTIS) online system and choose a suitable date.
This will be followed by a visit to a testing centre where upon arrival, motorists will be asked to produce their identity documents and then do fingerprint verification. The verification process is linked to the Department of Home Affairs which confirms the details of the applicant.
The motorists are then assisted with conducting an eye test and asked to make a card payment. Cash payments are not allowed.
"The system is accessible to all members of the public who are applying for driving and temporary driver's licence at our centres," he said.
A happy motorist, Themba Hlongwane who recently visited the RTMC offices in Centurion Centre said he was happy with the assistance he received.
 "I'm impressed with the new system, all went well, I didn't have to take leave, am now going back to work," he said.
Smart DLTCs
In June 2022, the Gauteng Department of Roads and Transport (GDRT) opened a first of its kind, smart DLTC at the Gautrain Midrand station.
The centre is one of four new stations set to be delivered by the GDRT in collaboration with the Gautrain Management Agency (GMA) and the RTMC to add capacity that will help address licence renewal backlogs in Gauteng.
The new centre will offer services such as applications for driver's licence and renewals, issuing of temporary driver's licence as well as payment of traffic fines.
Visit online.natis.gov.za
The centres operate from 8am – 9pm from Monday - Friday, and from 9am – 9pm on Saturday and Sunday. You can call Eco Park in Centurion at 012 999 5200 or Waterfall in Midrand at 011 266 2000