Written by Gabisile Ngcobo
Bradley Maarman (28) has turned his interest in photography into a business after receiving business management training from a non-profit organisation called Mfesane.
As a self-taught photographer, Maarman runs Be Seen Solutions which captures fashion, food, weddings, and family portraits.
Maarman who is from Saldanha Bay in the Western Cape says he had to quit his job in Johannesburg and return to his hometown to take care of his sick grandmother.
With very few job opportunities in Saldanha Bay, he felt stuck about the future but remembered that he had an interest in photography.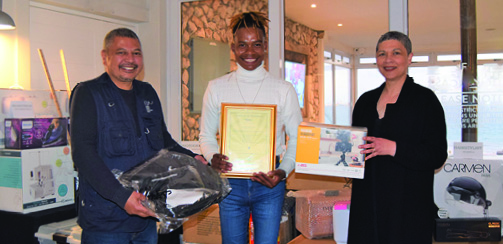 Maarman's lucky break came in 2022 when his friend introduced him to a job creation programme facilitated by Mfesane.
This NPO received a grant from the National Development Agency (NDA) to provide skills programme, targeting youth, with an end goal to graduate participants into real job opportunities. The NDA is an agency of government responsible for contributing towards the eradication of poverty in South Africa and its causes by granting funds to communities implementing development programmes.
Maarman grabbed the opportunity and started a photography business.
He received training in human resources and business management skills. Mfesane also assisted Maarman with new equipment which included a camera, tripod, drone and lighting materials to kick-start his business.
"I never thought it was possible, but Mfesane and the NDA managed to turn my dreams of running a business into a reality.
"My business is making a profit and I'm thankful for my clientele."
Be Seen Solutions is currently a one-man business, Maarman has a personal assistant who occasionally styles his shoots.
The Mfesane programme has to date produced 30 youth start-up companies in the Western Cape.
Mfesane CEO, Yolandi Afrika said the organisation's vision of empowered communities is being realised through this partnership with the NDA.
"I wish all the participants well in establishing their businesses. They can only grow from here as they have already demonstrated their determination and willingness to succeed through participation in the programme," she said.