If you're one of the many people who are prioritising their health this year, we've got you covered. Here are some great lunch ideas to help you ditch the take outs and pack a healthy lunch box instead.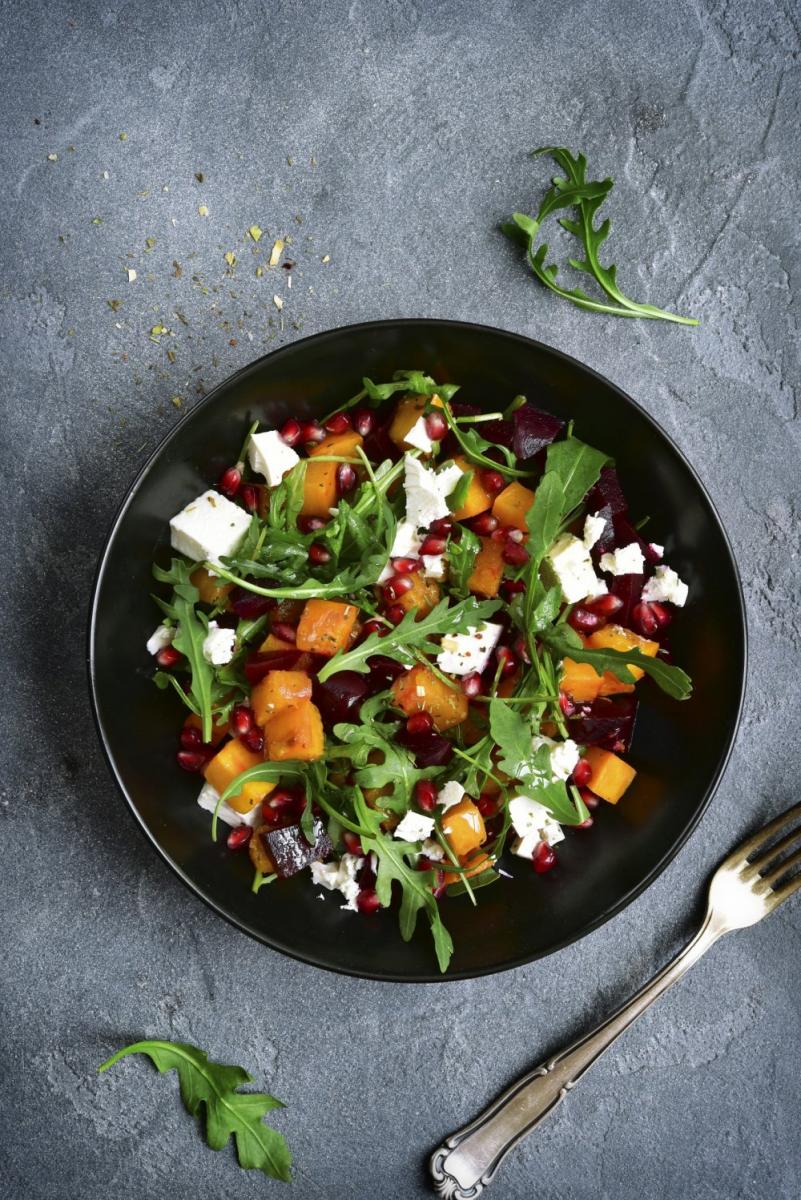 Butternut and beetroot salad
Ingredients
500g butternut (cubed)
500g beetroot (peeled and cubed)
200g rocket
150g feta
200g pomegranate
2 garlic cloves (crushed)
2 tablespoons oil
Balsamic vinegar (to serve)
½ teaspoon chilli flakes
Salt and pepper to season
Directions
In a bowl, add the butternut and drizzle a tablespoon of oil to coat. Sprinkle chilli flakes over the butternut, followed by a pinch of salt and pepper. Mix all together then place on a greased baking tray.
Follow the same procedure for the beetroot as the butternut. Roast the butternut and beetroot for 30 minutes in a preheated oven at 190°C.
Once the beetroot and butternut are tender, remove from oven and let cool.
In a salad bowl, place half of the rocket, followed by half of the butternut and beetroot.
Crumble half the feta cheese over and repeat this process with remaining ingredients. Finally, sprinkle over the pomegranate and your salad is ready to go. Drizzle balsamic vinegar over the salad when serving.
 
Chicken quinoa bowl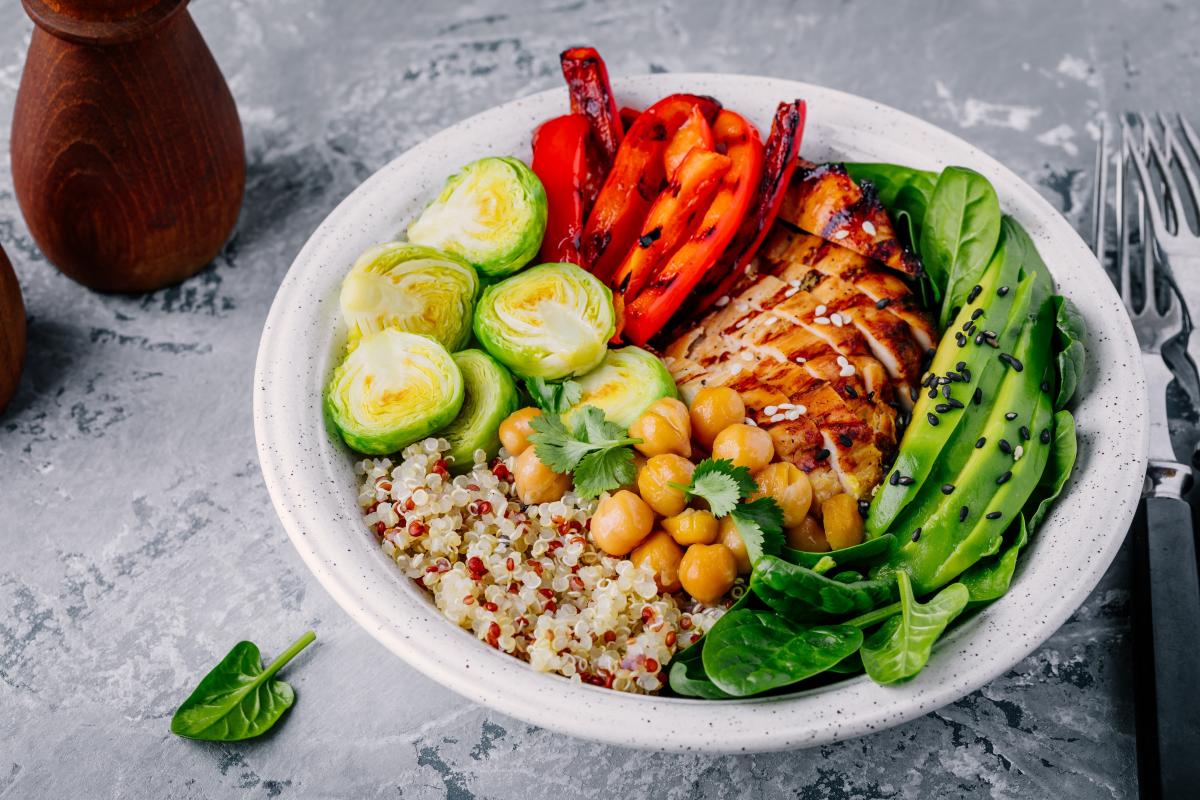 Ingredients
1 avocado (sliced)
500g baby spinach
¼ cup canned chickpeas (drained)
1 red pepper (cut into strips)
2 cups quinoa
1 cup Brussels sprouts (halved)
1 chicken breast (deboned)
2 tablespoons olive oil
¼ cup balsamic vinegar
2 tablespoons soy sauce
1 garlic clove (crushed)
1 teaspoon mixed herbs (dried)
Salt and pepper to season
Sesame seeds to decorate
Directions
Brussels sprouts
Add four cups of water and salt and bring to a boil in a medium pot. Put the Brussels sprouts into the pot. Reduce the heat to low and simmer until sprouts are tender.
Quinoa
Add two cups of water and salt and bring to the boil in a medium pot. Rinse the quinoa through a fine mesh sieve until water is clear and transfer to the pot. Reduce the heat to low and simmer until water is completely absorbed. Remove from stove and let rest for five minutes before fluffing quinoa with a fork.
Chicken
Add soy sauce, balsamic vinegar, garlic and mixed herbs into a bowl and mix. Add the chicken breast to the mixture and let it marinate for 30 minutes. Bring a griddle pan to medium heat and grill chicken breasts until cooked through. Remove from the pan and set aside to rest. Once cooled, slice the chicken breasts into the thickness of your choice.
In the same pan, grill the red peppers for one minute on one side.
In a bowl add your baby spinach, sliced chicken breasts, avocado, peppers, quinoa, Brussels sprouts and chickpeas. Sprinkle sesame seeds over and serve.
Tuna wrap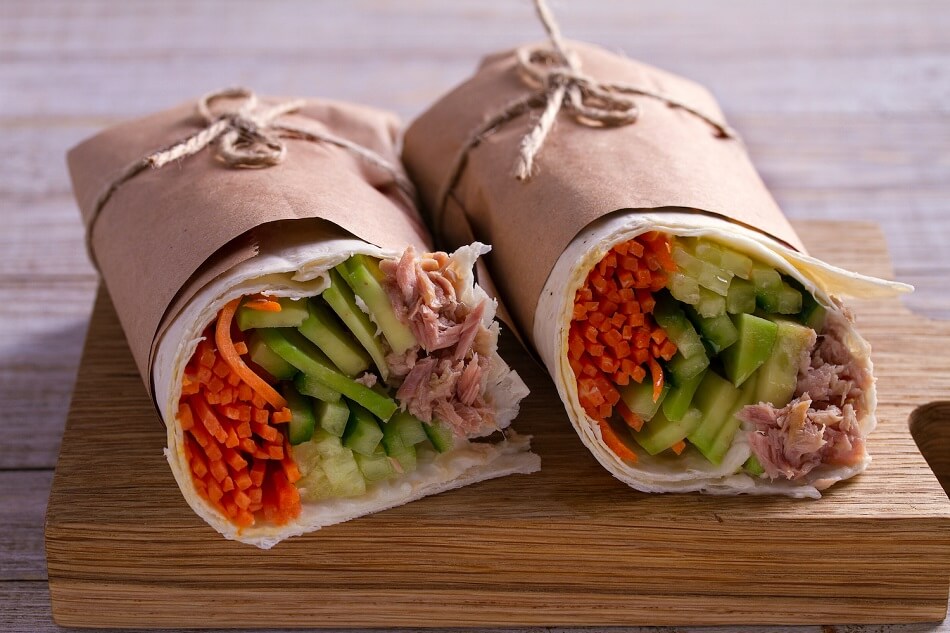 Ingredients
2 tablespoons cream cheese (flavour of your choice)
2 wraps
4 carrots (stripped, diced or shaved)
¼ cucumber (stripped, diced or shaved)
¼ onion (stripped or diced)
1 avocado sliced
1 cup tuna (drained and seasoned with salt and pepper)
Directions
Spread a tablespoon of cream cheese across the wrap. Place the carrots, cucumber, onion, avocado and tuna in the middle of the wrap, fold over the one end and roll it. Fold in the two ends to secure the filling, then cut it in half and serve.