Amid the gloom of her employment contract lapsing as the COVID-19 pandemic took hold in the county and globally in 2020, Busisiwe Sithole saw a gap in a market to establish her now growing business - Miss Pick Up Deliveries.
"During the lockdown we didn't have food delivery services in Richards Bay. So a lot of businesses - especially restaurants - had to just shut down as they didn't have the option of delivery services. I spoke to a couple of people, most of them couldn't really invest in doing in-house delivery, because of the financial circumstances that they were facing at the time," she says.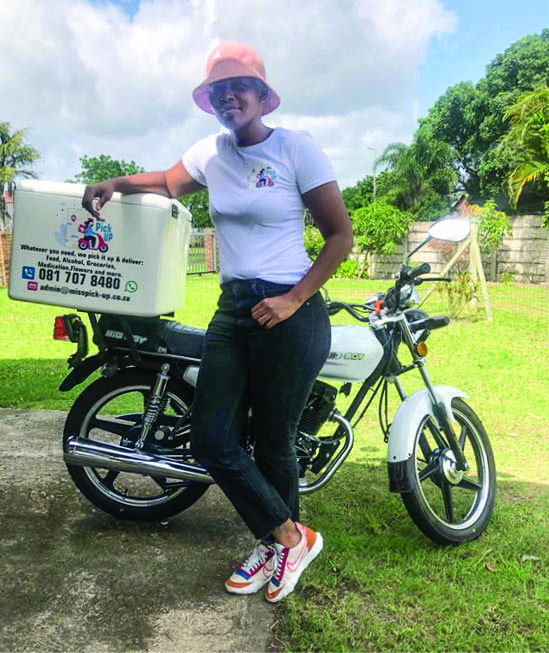 Sithole thought to share her idea of providing a delivery service and soon a number restaurants and businesses agreed to come on board. She then bought two bikes and hired two drivers. 
And with that, Miss Delivery was born.
With the easing of lockdown regulations and the re-entry of established operators into the Richards Bay market, business became extremely frustrating for her. She attributes her frustrations to that some of her clients were franchisees which meant that they were compelled by their agreements to use the established services like Mr D and UberEats. This however, did not dampen her resolve to keep her business going. She used her relationships forged during the hard lockdown, focussing on the independent businesses who were not obliged to use established delivery platforms.
"I also had a good relationship with some other franchisees and they preferred using my service rather than the big delivery companies because of the charges involved. We had good agreements between us which were beneficial to all of us," she said.
Since 2020, the fleet has grown from two motor bicycles to three and an additional two cars. The third motor cycle is an eco-friendly rechargeable bike funded by the National Youth Development Agency (NYDA). These bikes have zero fuel consumption. Going forward, Sithole aims to focus on using the eco-friendly bikes as they can drastically reduce her fuel expenditure costs and are kinder to the environment.
"I've always known about the NYDA but a friend of mine who was attending a course they offered, told me about the support they could provide me. I approached them (NYDA) and I was informed that applications were now online. I did the online application and the very next day I was contacted. I was assisted throughout the process and within a month I got positive feedback."
She is also partnering with independent contractors who do deliveries using their own vehicles.
"More people want to come on board but I am still working on creating an App. So as soon as the App is up and running, I'll enter into more partnerships," she says.
For more information on the NYDA, visit www.nyda.gov.za or contact 087 158 6345 / 5738.